chicken kimchi sushi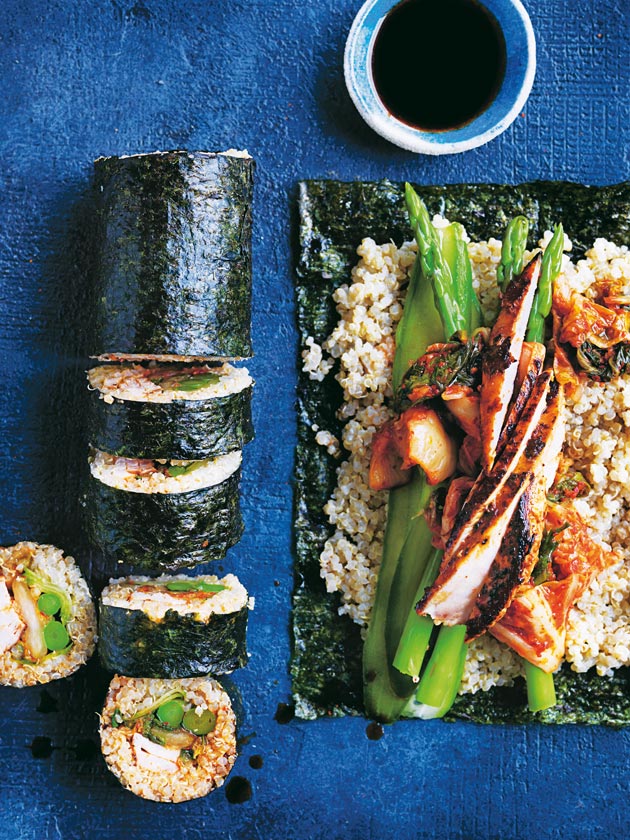 2 cups (400g) kimchi, plus extra to serve

600g chicken breast fillets, halved lengthways

1½ cups (270g) white quinoa

3 cups (750ml) water

150g silken tofu

2 tablespoons mirin (Japanese rice wine)

½ teaspoon sea salt flakes

2 teaspoons extra virgin olive oil

4 sheets nori (dried seaweed)

1 Lebanese cucumber, thinly sliced

1 bunch asparagus, blanched

tamari, to serve

Place 1 cup (200g) of the kimchi in a food processor and process until smooth. Place in a large bowl, add the chicken and toss to coat. Cover and refrigerate for 30 minutes to marinate.

Place the quinoa and water in a large saucepan over high heat. Bring to the boil. Reduce heat to low, cover and cook for 12–15 minutes or until the quinoa is cooked and water is absorbed. Remove from the heat and set aside to cool slightly.

Place the tofu, mirin and salt in a small food processor and process until smooth. Add tofu mixture to the cooked quinoa and stir well to combine.

Heat the oil in a large frying pan over low heat and cook the chicken for 3–4 minutes on each side or until charred and cooked through. Set aside to cool slightly. Slice thinly.

Place 1 nori sheet on a sushi mat and spread evenly with 2⁄3 cup of the quinoa mixture, leaving a 3cm border at the top of the sheet, and pressing down with damp hands. Top with one-quarter of the cucumber, one-quarter of the asparagus, ¼ cup (50g) of the remaining kimchi and one-quarter of the chicken. Brush the clean edge of the nori with water and roll tightly to enclose. Slice into rounds. Repeat with the remaining ingredients. Serve with tamari. Makes 4.

There are no comments for this entry yet.