Brown sugar meringues
with chocolate swirl cream and sugar bark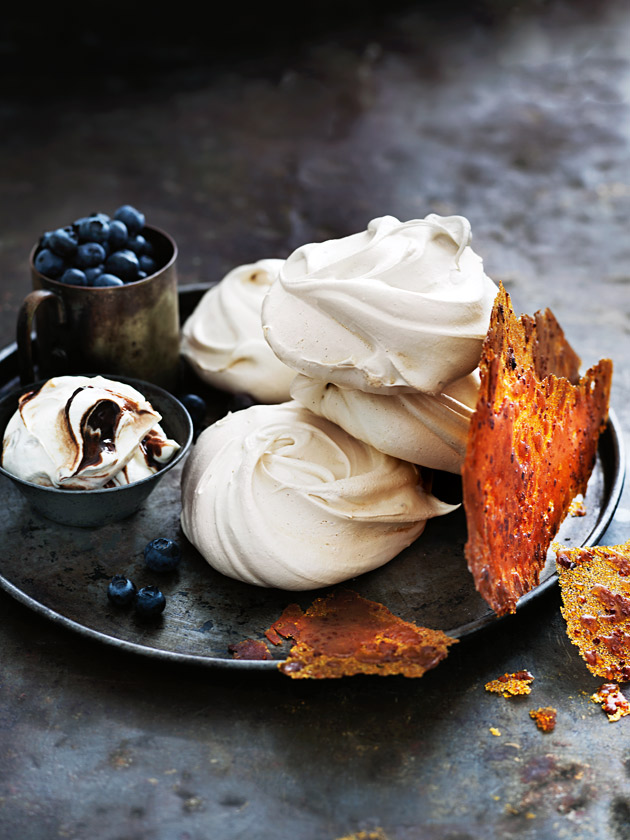 4 eggwhites (125ml total)

¾ cup (165g) raw caster sugar

⅓ cup (80g) dark brown sugar, firmly packed and pressed through a sieve

blueberries, to serve

chocolate swirl cream
50g dark chocolate, chopped

¼ cup (60ml) single (pouring) cream

300ml double (thick) cream

sugar bark
⅓ cup (75g) raw caster sugar

1 tablespoon coffee sugar crystals

Preheat oven to 200°C (400°F). To make the sugar bark, line a large baking tray with non-stick baking paper. Sprinkle the baking paper with the caster sugar and tap the tray gently to make the sugar a thin even layer. Sprinkle with the coffee sugar and cook for 8–10 minutes or until the sugar has just melted. Allow to cool on tray. Set aside.
Reduce oven temperature to 120°C (250°F). To make the brown sugar meringues, place the eggwhites in the bowl of an electric mixer and whisk until soft peaks form. Gradually add the caster sugar, 1 tablespoon at a time, whisking until sugar has dissolved. Sprinkle tablespoons of the brown sugar over the eggwhite mixture, whisking well between spoonfuls.
Line 2 large baking trays with non-stick baking paper. Spoon the eggwhite mixture onto the baking trays in 8 rounds. Reduce oven temperature to 100°C (212°F). Bake for 45 minutes, turn off the oven and allow meringues to cool completely in the oven.
To make the chocolate swirl cream, place the chocolate and single cream in a small saucepan over low heat and stir until the chocolate has melted and is combined. Set aside to cool. Place the double cream in a large bowl and whisk until stiff peaks form. Add the chocolate mixture and swirl through the cream.
Place the meringues on plates and break the sugar bark into pieces. Serve meringues immediately with blueberries and chocolate swirl cream. Serves 8.
Tips + Tricks:
This unique twist on meringue substitutes standard white caster sugar for raw caster and dark brown, to give a new richness and a golden, caramel colour to these pillowy treats.
There are no comments for this entry yet.