caramel self-saucing pudding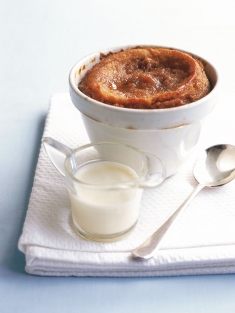 75g butter, melted

½ cup (90g) brown sugar

2 eggs

1 cup (120g) almond meal (ground almonds)

1 cup (150g) plain (all-purpose) flour

1 teaspoon baking powder

⅓ cup (80ml) milk

1 teaspoon vanilla extract

pouring (single cream), to serve

caramel syrup
50g butter

1½ cups (265g) brown sugar

1¾ cups (435ml) water

Preheat oven to 160ºC (320ºF). To make the caramel syrup, place the butter, sugar and water in a saucepan over medium heat and stir until the butter is melted and the sugar is dissolved. Set aside.

Place the butter, sugar, eggs, almond meal, flour, baking powder, milk and vanilla in a bowl and mix until combined. Spoon the pudding mixture into 6 x 1 cup-capacity (250ml) lightly greased ovenproof dishes.
Pour over the caramel syrup and bake for 30 minutes or until cooked when tested with a skewer.
Allow to stand for 5 minutes before serving with cream. Makes 6.

Jane London
I made a dairy free version and used Nuttlex instead of butter, rice milk and white spelt flour. I cooked them in pyrex ramekins on a baking tray in case the caramel bubbled up while cooking (which it did) so no mess in the oven. These were delicious served with coconut ice-cream.
donna hay team
Hi Vanessa, yes there should be a lot of caramel sauce. The sauce will sit at the bottom of the pudding, with a little having bubbled up the sides of the mould. It's a good idea to let them sit for a few minutes before serving. The sauce will thicken and start to soak back into the pudding. The DH team
Vanessa Moore
Hi, I tried this tonight exactly however it the pudding turned out fine, but sauce was like soup and hence it didn't look anything like the picture - tasty but what did I do wrong ! Was the sauce meant to be 1 3/4 cups as it seems way too much.