cranberry and coconut granola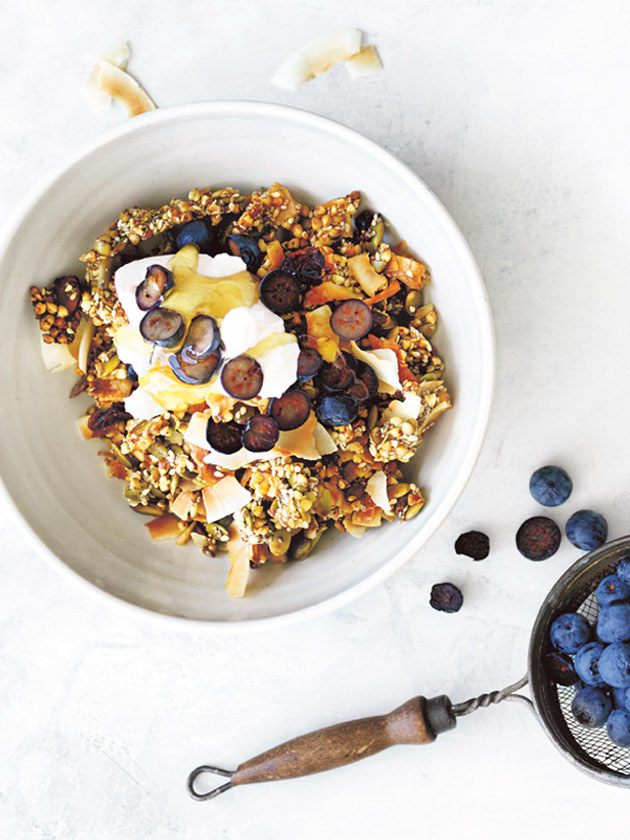 1 cup (200g) raw buckwheat

1 cup (250ml) boiling water

1 cup (200g) pepitas (pumpkin seeds)

¼ cup (50g) white chia seeds

¼ cup (40g) sesame seeds

1 teaspoon vanilla bean paste

¼ cup (90g) honey, plus extra to serve

2 tablespoons extra virgin olive oil

1½ cups (75g) flaked coconut

½ cup (65g) dried cranberries (craisins)

blueberries and coconut yoghurt, to serve

Place the buckwheat and water in a medium bowl and set aside for 30 minutes to soak.

Preheat oven to 150°C (300°F). Drain the buckwheat and place in a large bowl. Add the pepitas, chia seeds, sesame seeds, vanilla, honey and oil, and mix to combine.

Spread the granola over 2 large baking trays lined with non-stick baking paper and cook, stirring occasionally, for 40 minutes. Add the coconut and cranberries and cook for a further 20 minutes or until golden. Set aside to cool. Serve with blueberries, coconut yoghurt and extra honey. Serves 6–8.

There are no comments for this entry yet.