power seed bircher
with maple vanilla yoghurt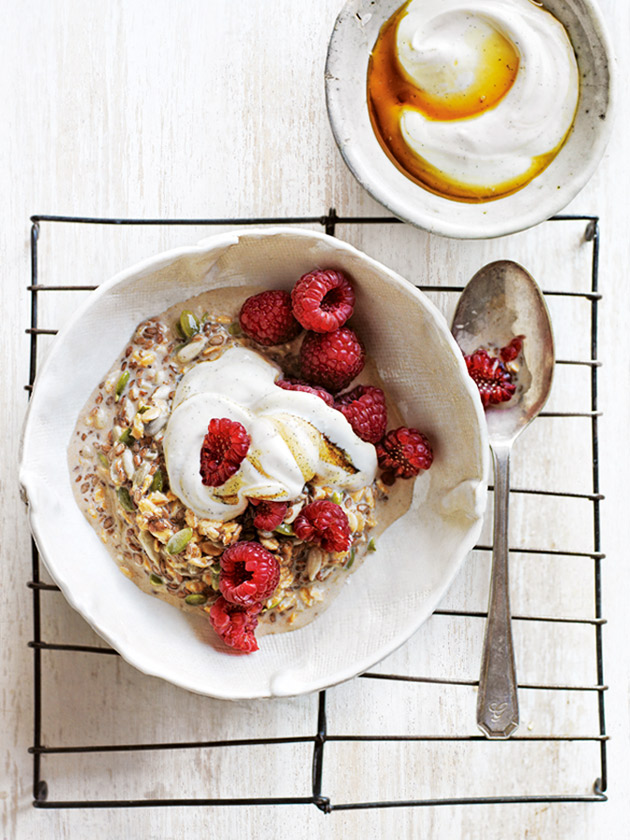 ⅓ cup (55g) sunflower seeds

⅓ cup (55g) pepitas (pumpkin seeds)

⅓ cup (60g) linseeds (flaxseeds)

½ cup (60g) rolled spelt oats

1½ cups (375ml) milk or nut milk

½ teaspoon ground cinnamon

1 tablespoon honey

1 firm pear, grated

raspberries, to serve

maple vanilla yoghurt
1 cup (280g) plain Greek-style (thick) yoghurt

2 tablespoons maple syrup

1 teaspoon vanilla bean paste

Place the sunflower seeds, pepitas, linseeds and oats in a large bowl. Add the milk, cinnamon and honey and mix to combine. Refrigerate for 4 hours or overnight.
To make the maple vanilla yoghurt, place the yoghurt, maple syrup and vanilla in a bowl and mix to combine. Add the pear to the bircher and stir to combine.
Spoon the bircher into serving bowls or jars and top with the yoghurt and raspberries to serve. Serves 4.
There are no comments for this entry yet.