raspberry and ricotta french toast muffins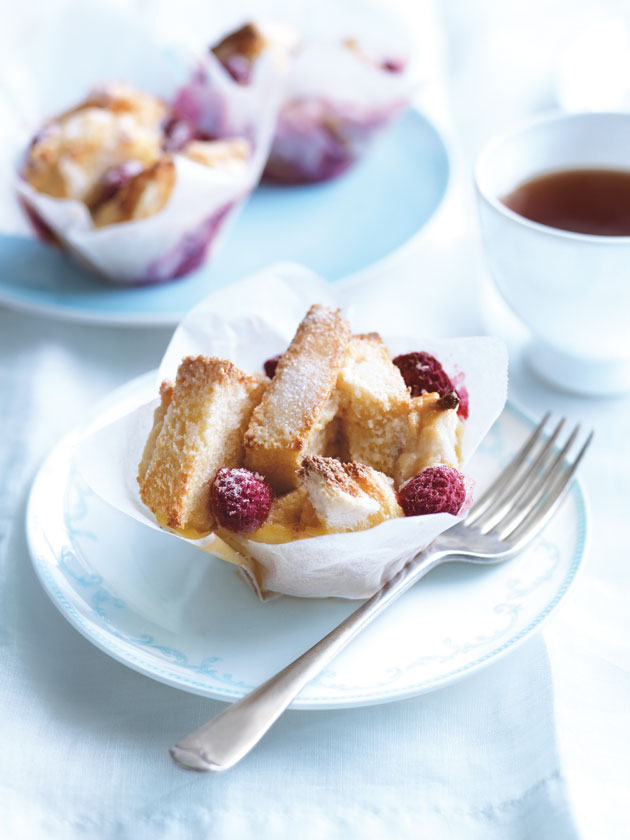 ⅓ cup (35g) ricotta
2 teaspoons vanilla extract
⅓ cup (75g) caster (superfine) sugar
4 slices white bread, crusts removed
2 eggs
⅓ cup (80ml) milk
250g fresh raspberries
icing (confectioner's) sugar, for dusting

Preheat oven to 160°C (325°F). Place the ricotta, 1 teaspoon of the vanilla and 2 tablespoons of the caster sugar in a bowl and mix to combine. Spread over the bread and tear into small pieces.
Place the eggs, milk, 1 tablespoon of the caster sugar and the remaining vanilla in a bowl and whisk to combine.
Cut 4 x 14cm squares from non-stick baking paper and press into 4 x ½ cup-capacity (125ml) muffin tins. Arrange the bread and ¾ of the raspberries in the paper cases and pour over the egg mixture.

Sprinkle with the remaining caster sugar and bake for 30–35 minutes until cooked through and golden.
Top with the remaining raspberries and dust with icing sugar to serve. Serves 4.

Diane Ormrod
I have a b&b in the Catskill Mountains of New York. This has long been a fave of our guests. Everyone asks us for this recipe, and we direct them here. We've taught children how to make it, and because of the messiness and tastiness, they love it. Perfect!