blueberry and raspberry
bread and butter pudding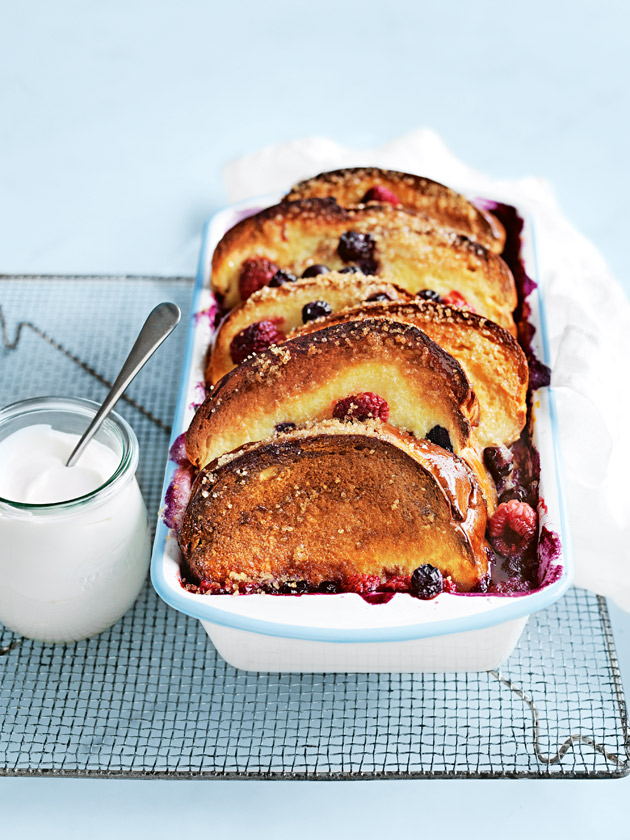 1¾ cups (430ml) single cream

3 eggs

⅓ cup (75g) caster (superfine) sugar

2 teaspoons vanilla extract

½ cup (140g) natural Greek-style (thick) yoghurt, plus extra to serve

1 teaspoon finely grated lemon rind

400g brioche loaf, sliced

100g unsalted butter, chopped and softened

125g raspberries

125g blueberries

2 tablespoons raw sugar

Preheat oven to 180°C. Place the cream in a medium saucepan over medium heat and bring to just below the boil. Remove from the heat and set aside.

Place the eggs, caster sugar, vanilla, yoghurt and lemon rind in a medium bowl and whisk to combine. Gradually add the cream, whisking until well combined.

Spread each side of the bread with the butter and place in a lightly greased 11cm x 21cm 5-cup-capacity (1.25-litre) loaf tin.

Scatter the raspberries and blueberries over and between the brioche. Pour over the custard mixture and set aside to soak for 10 minutes.

Sprinkle with raw sugar and cook for 35 minutes or until golden and just set. Set aside to cool slightly before serving with the yoghurt. Serves 6.

There are no comments for this entry yet.