brown rice crispy treats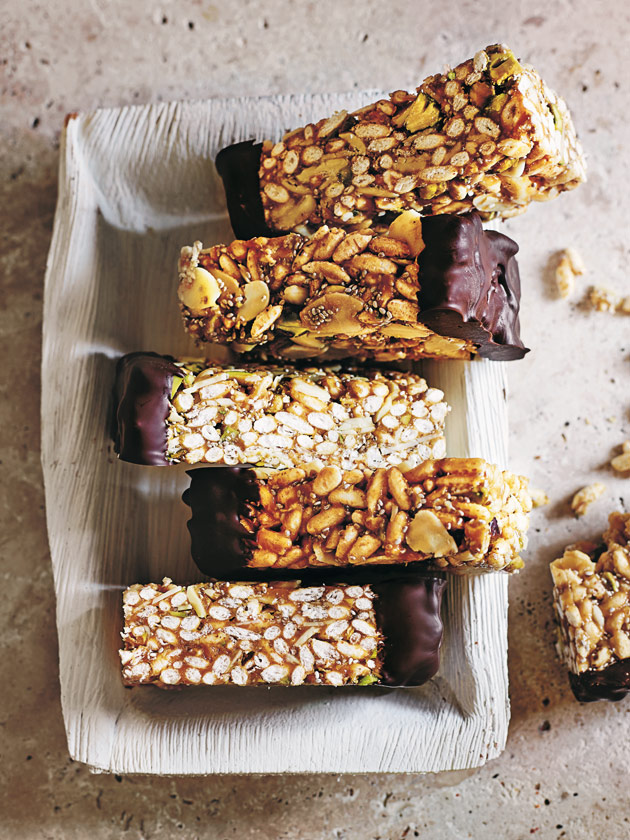 3 cups (45g) puffed brown rice+

1 cup (80g) flaked almonds

½ cup (70g) pistachios, chopped

¼ cup (50g) white chia seeds

½ cup (175g) honey

½ cup (140g) smooth peanut butter

80g 70% chocolate, melted

Place the puffed brown rice, almonds, pistachios and chia in a large bowl. Place the honey and peanut butter in a small saucepan over medium heat and stir for 3 minutes or until warmed through. Add the honey mixture to the brown rice mixture and stir well to combine.
Firmly press the mixture into a lightly greased 20cm square cake tin lined with non-stick baking paper. Refrigerate for 1 hour or until set.
Cut the slice into 5cm x 10cm pieces, dip one end into the chocolate and place on a baking tray lined with non-stick baking paper. Refrigerate for 20 minutes or until set. Keep refrigerated until ready to serve. Makes 8.

+ Puffed brown rice is available from the health food aisle of the supermarket and health food stores.
TIP: Keep refrigerated in an airtight container for up to five days.
Cat G
I eat these straight from the freezer. Healthy, and delicious for that 3pm slump.
Rosemary Ramsay
These are amazingly yummy. I added dried cranberries to the mix. I also spread chocolate over the top of the entire chilled mix, in the tin, before cutting into bite size pieces to chill. They don't last long at our house.
Julia Oberhardt
Made these today, & OMG , they are indeed delicious. I added in some coconut flakes, & omitted the melted chocolate, as I thought they were sweet enough!!
Tags:
almonds
,
brown rice
,
chia
,
chocolate
,
dessert
,
fresh and light
,
honey
,
peanut butter
,
pistachio
,
rice
,