coconut ice-cream
with peach and nectarine swirl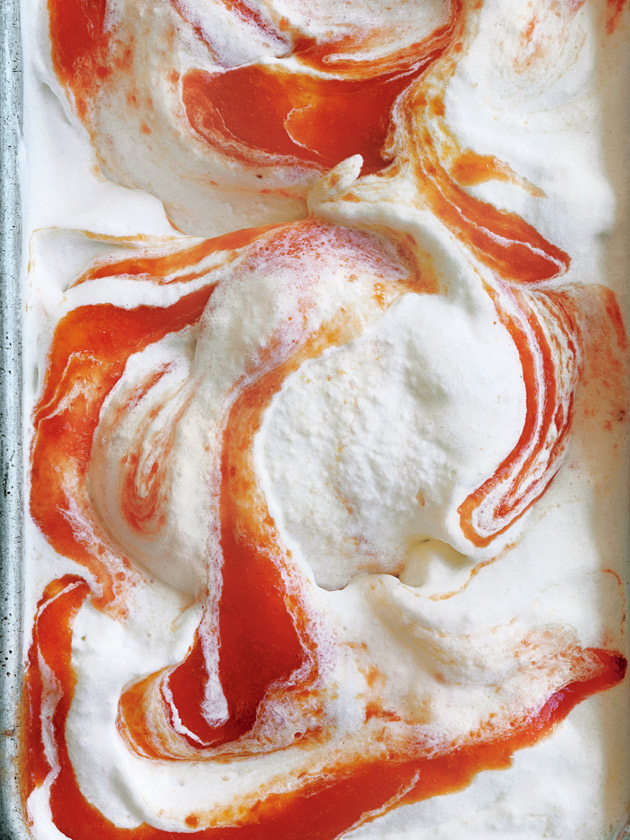 1/2 cup light agave syrup+

2 x 400ml cans coconut cream

400ml can coconut milk

3 ripe peaches (350g), chopped

2 ripe nectarines (250g), chopped

2 tablespoons maple syrup

2 tablespoons water

Place the agave syrup, coconut cream and milk in a bowl and whisk to combine. Pour the mixture into 2 large zip-lock bags, pressing out as much air as possible, and seal. Lay the bags flat on a baking tray and freeze for 2 hours or until just frozen.

Place the peach, nectarine, maple syrup and water in a medium saucepan over medium heat. Cook for 15–20 minutes or until soft. Allow to cool.

Place the cooled mixture in a blender and blend until smooth. Strain through a fine sieve into a jug and set aside.

Remove the ice-cream mixture from the freezer and, using your hands, bend the bags to break up the mixture into small pieces. Place the mixture in a food processor, in batches, and process until smooth, scraping down the sides of the processor.

Spoon the ice-cream mixture into a 2-litre-capacity tin, spoon over the peach mixture and gently stir through with a metal spoon. Freeze for 3 hours or until just frozen. Scoop into bowls or cones to serve. Serves 6–8.

+ Agave syrup is a natural sweetener from the agave plant, similar in consistency to honey. Find it in health food stores and some supermarkets.
There are no comments for this entry yet.