orange, rose and olive oil shortbread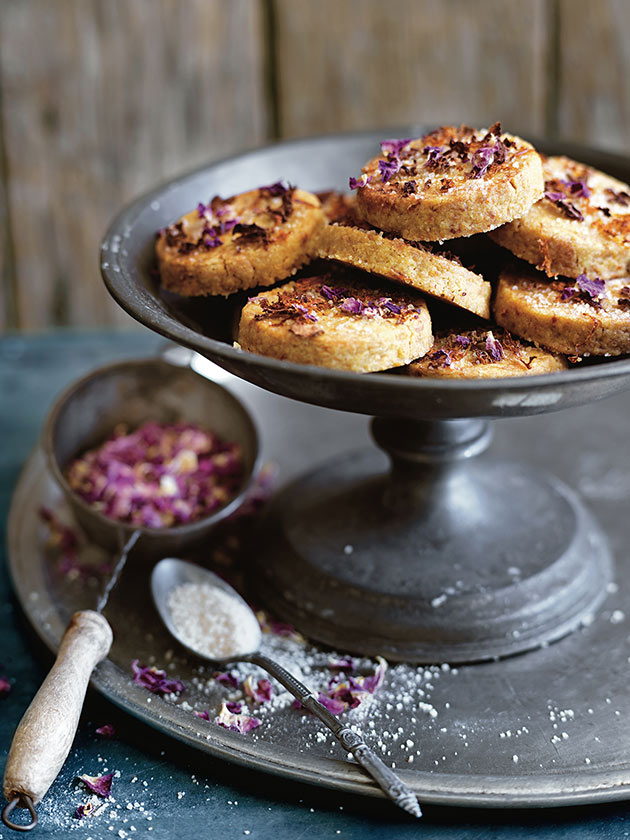 2½ cups (350g) white spelt flour

½ cup (110g) raw caster (superfine) sugar, plus extra for sprinkling

½ teaspoon table salt

¾ cup (180ml) extra virgin olive oil
3 teaspoons rosewater

2 tablespoons finely grated orange zest

1 eggwhite, lightly beaten

1 tablespoon dried rose petals, plus extra, for sprinkling

Preheat oven to 180°C (350°F). Place the flour, sugar and salt in a large bowl. Stir in the oil, rosewater and half the orange zest until the dough just comes together. Turn out onto a clean bench and knead gently until smooth. Wrap in plastic wrap and place in the fridge for 15 minutes to chill.

Roll out the dough between 2 sheets of non-stick baking paper to 8mm-thick. Cut into rounds, using a 4cm cutter. Place the rounds, 2cm apart, on a baking tray lined with non- stick baking paper. Brush lightly with the eggwhite and sprinkle with extra sugar, rose petals and remaining orange zest.

Cook for 22–25 minutes or until golden brown. Set aside to cool on the tray. Sprinkle with extra rose petals to serve. Makes 20.

There are no comments for this entry yet.