raw caramel oat cookies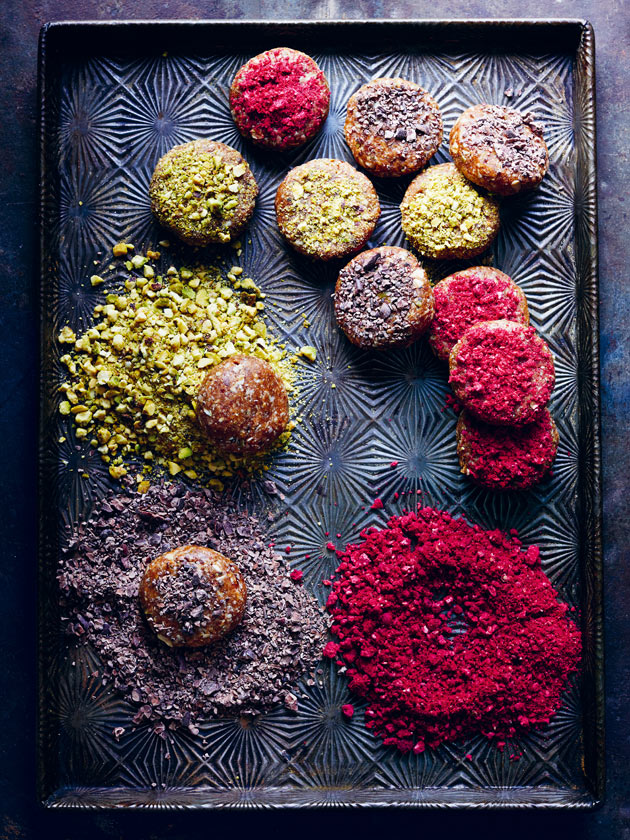 ⅓ cup (55g/2 oz) sunflower seeds

⅓ cup (55g/2 oz) pepitas (pumpkin seeds)

2 tablespoons hemp seeds (optional)

1 cup (90g/3 oz) rolled oats or ⅓ cup (40g) coconut flour

12 soft fresh dates (240g/8½ oz), pitted

½ cup (125g/4½ oz) cashew, almond or peanut butter

2 teaspoons vanilla extract

1½ teaspoons ground cinnamon

or

¼ cup The Beauty Chef Glow OR Collagen (see cook's notes)

finely crushed pistachios, crushed freeze-dried raspberries

or crushed cacao nibs, for sprinkling (see cook's notes)
Line a large tray with non-stick baking paper. Place

the sunflower seeds, pepitas, hemp seeds, oats, dates, cashew butter, vanilla and cinnamon in a food processor and process until a rough dough forms.

Roll 1-tablespoon portions of the mixture into balls and flatten slightly. Place on the tray, sprinkle with pistachios, freeze-dried raspberries or cacao nibs

and refrigerate for 1 hour or until firm. Makes 20
COOK'S NOTE
+ The Beauty Chef is available from www.thebeautychef.com or at Mecca www.mecca.com.au

+ These cookies are what I reach for when I need a post-workout pick-me-up or healthy snack on the go.
+ Keep them in the fridge in an airtight container for up to 1 week.
+ Choose your favourite topping to sprinkle on the cookies (or try all three!). You'll need about ½ cup in total.
Photography: Con Poulos
There are no comments for this entry yet.