red velvet cheesecake-filled cookies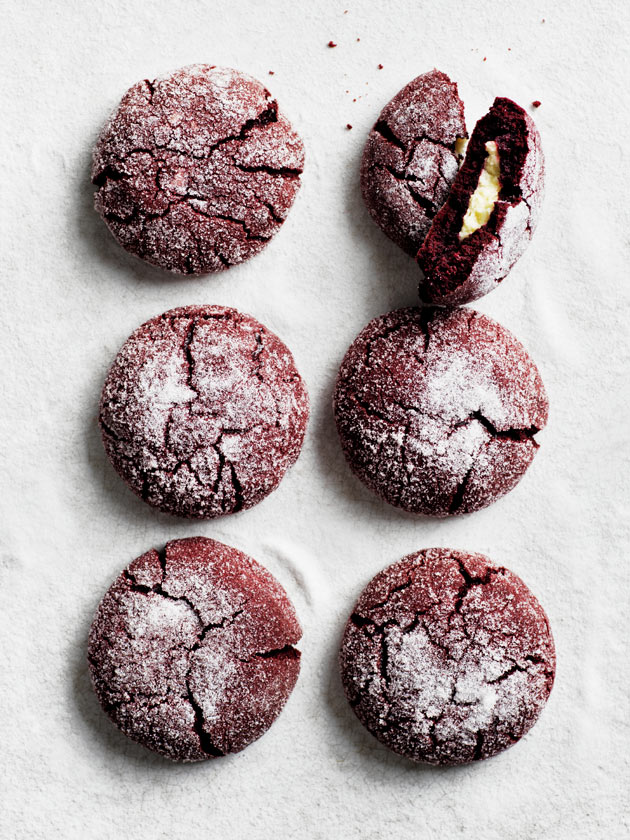 125g (4½ oz) unsalted butter, chopped and softened

½ cup (110g/3¾ oz) caster (superfine) sugar

½ cup (110g/3¾ oz) firmly packed brown sugar

1 egg

2 teaspoons vanilla extract

1 teaspoon red food colour gel

2 cups (300g/10½ oz) plain (all-purpose) flour

⅓ cup (35g/1¼ oz) cocoa powder

½ teaspoon bicarbonate of soda (baking soda)

caster (superfine) sugar, extra, for rolling
cheesecake filling
125g (4½ oz) cream cheese,

chopped and softened

100g (3½ oz) white chocolate,

melted and cooled
1 tablespoon plain (all-purpose) flour

½ teaspoon vanilla extract

1 lemon, rind finely grated
To make the cheesecake filling, place cream cheese, chocolate, flour, vanilla and lemon rind in a large bowl. Whisk until smooth. Spoon teaspoons of filling onto a baking tray lined with non-stick baking paper. Flatten slightly and freeze for 1 hour or until firm.
To make the cookies, place the butter and sugars in the bowl of an electric mixer and beat on medium speed for 6–8 minutes or until pale and creamy. Add the egg, vanilla and red food gel. Increase speed to high and beat for a further 2 minutes. Add the flour, cocoa and bicarbonate of soda and mix on low speed until a smooth dough forms.

Preheat oven to 180°C (350°F). Line 2 large baking trays with non-stick baking paper.

Roll tablespoons of the dough into balls and use your thumb to make an indent in half the dough balls. Working quickly place a frozen cheesecake ball into each indent. Top with remaining dough balls and press the edges to enclose the cheesecake filling. Roll into balls and press to flatten slightly.

Place extra sugar in a shallow bowl and roll each dough ball in the sugar to coat. Place on prepared baking trays and bake for 15 minutes or until firm to the touch. Set aside on trays for 5 minutes to cool slightly, before transferring to a wire rack to cool completely. Makes 12
Photography: Chris Court
donna hay team
Hi Lucy, you can store these in an airtight container our of the fridge for 2-3 days. Glad you enjoyed them!
Lucy Faltas
First time to make these cookies. Set aside some time. However they are worth it!
Lucy Faltas
How do you store these cookies as they have cream cheese centre? Fridge or just on kitchen bench in a container ?