baked pasta with ricotta, leek and spinach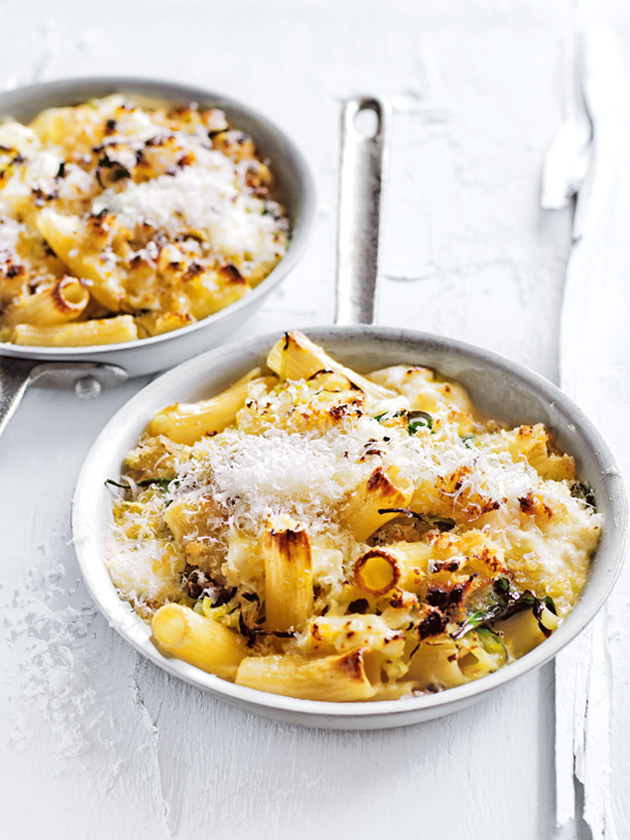 400g rigatoni

3 cups (60g) baby spinach leaves

6 anchovies, finely chopped

1 tablespoon finely grated lemon rind

sea salt and cracked black pepper

2 tablespoons extra virgin olive oil

2 leeks, thinly sliced

1 cup (240g) ricotta, crumbled

¼ cup (60ml) single (pouring) cream

1 cup (70g) sourdough breadcrumbs

finely grated parmesan, to serve

Preheat oven to 240°C (475°F). Cook the pasta in a large saucepan of salted boiling water for 6 minutes. Drain, reserving 1 cup (250ml) of cooking water. Place the pasta, reserved cooking water, spinach, anchovy, lemon rind, salt and pepper in a large bowl and toss to combine.

Heat 1 tablespoon of the oil in a large non-stick frying pan over medium heat. Add the leek and cook for 4 minutes or until soft. Add the leek, ricotta and cream to the pasta mixture and gently fold to combine. Divide between 2 x 18cm ovenproof frying pans. Top with the breadcrumbs and drizzle with the remaining oil. Place on an oven tray and cook for 15 minutes or until golden and bubbling. Top with parmesan to serve. Serves 4.

sandra phelan
Simple and tasty, my teens favourite
lipsticklibrarianxoxo@gmail.com
Creamy and rich tasting. Impressive looking enough for company. Can be made ahead.
lipsticklibrarianxoxo@gmail.com
Fairly easy to put together and easily adaptable to whatever vegetables one might have leftover in the fridge.