chicken and sage sausage rolls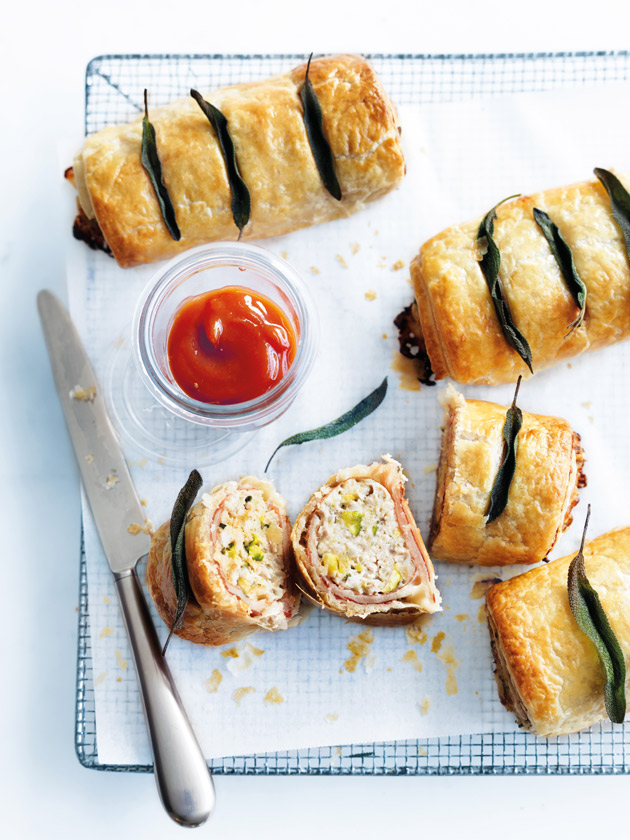 1 tablespoon extra virgin olive oil
1 small brown onion, chopped
3 cloves garlic, crushed
2 tablespoons chopped sage leaves+
1½ cups (100g) fresh breadcrumbs
¼ cup (60ml) milk
500g chicken mince
⅓ cup (45g) pistachios, roughly chopped
1 cup (110g) grated provolone
2 tablespoon Dijon mustard
2 eggs
sea salt and cracked black pepper
2 sheets frozen puff pastry, thawed
8 slices prosciutto

Preheat oven to 200°C. Heat the oil in a medium non-stick frying pan over medium heat. Add the onion, garlic and sage and cook for 4–5 minutes or until golden. Transfer to a large bowl, add the breadcrumbs and milk and stir to combine. Add the mince, pistachio, cheese, mustard, 1 egg, salt and pepper and stir until combined. Line each pastry sheet with 4 slices of prosciutto and cut in half.
Divide the mince mixture between the pastry sheets, placing it along one edge, and roll to enclose. Cut in half and place, seam-side down, on large baking trays lined with non-stick baking paper.
Lightly whisk the remaining egg and brush the rolls. Bake for 20–25 minutes or until golden and cooked through. Makes 8.

Robyn Light
What a fabulous sausage roll - it was simple to make and delicious! I substituted the grated provolone with grated mozzarella and didn't include the proscuitto. The pistachios were a beautiful addition to the recipe.
Alison Baldwin
These are so delicicious, devoured minutes after taking from the oven.