sticky maple and bourbon pork ribs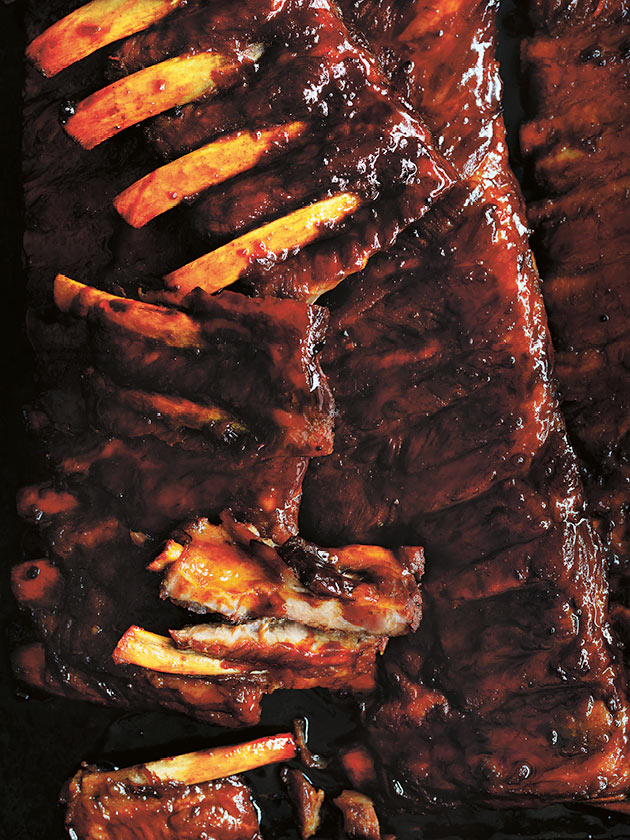 2 cups (500ml) malt vinegar

2 litres water

6 bay leaves

3 sticks cinnamon

½ cup (90g) brown sugar

¼ cup (75g) rock salt

1 brown onion, quartered

2kg American-style pork ribs

maple bourbon glaze
1 cup (250ml) bourbon or whiskey

½ cup (125ml) maple syrup

½ cup (125ml) malt vinegar

¼ cup (60ml) Worcestershire sauce

1 tablespoon Dijon mustard

1 teaspoon smoked paprika

1 tablespoon sea salt flakes

Place the vinegar, water, bay leaves, cinnamon, sugar, rock salt and onion in a large saucepan over high heat. Stir to combine and bring to the boil.

Add the ribs, reduce the heat to medium and cover with a tight-fitting lid. Simmer for 30–40 minutes or until the pork is tender.

While the ribs are cooking, make the maple bourbon glaze. Place the bourbon, maple syrup, vinegar, Worcestershire sauce, mustard, paprika and salt flakes in a medium saucepan over medium heat.

Stir to combine and bring to the boil. Reduce the heat to low and simmer for 8–10 minutes or until slightly reduced. Set aside.

Preheat oven to 220°C (425°F).

Remove the ribs from the cooking liquid and place, meat-side down, in a large deep-sided ovenproof dish. Top with the glaze and roast for 15 minutes.

Turn the ribs over, baste with the glaze and roast for a further 15 minutes or until the pork is tender and the glaze is reduced. Brush with any remaining glaze and slice to serve. Serves 4

Jonathan Fowler
After removing the ribs from the saucepan I was wondering what to do with the remaining liquid. After letting it cool and removing any fat from the top, the stock is perfect for making Vietnamese pho. Just heat and add a bit of chopped chicken or thinly sliced beef. Serve with bean sprouts, fresh mint and finely chopped chilli. Delicious.
Marie Thuresson
I tried this recipe yesterday , easy to make and WOW they were awesome. The meat was tender and the sauce was sticky and delicious. The only fault I could comment on is there was not enough sauce to really give the ribs a good extra drizzle when I served them up. I certainly will be making these again.
Maria Jacob Lorenzo
When I tried this recipe some weeks ago, my family loved it. I had to introduce a change, as you cannot find usually malt vinegar in Spain (we are wine producers!), so I used white wine vinegar. Next time I did the ribs, I introduced some other changes, after listening to my very own guinea pigs, and added some garlic to the marinade, substituted the smoked paprika for hot paprika (we are also paprika producers) and used smoked salt instead of common sea salt. The result was also great!
johno Healy
I saw Chef Donna make this on TV yesterday, and had to try it. I changed it only by halving, just me eating. I wonder whether Rikki had his oven too low? These ribs are legendary, aromatic, sensationally flavoured, sticky as dates and falling off the bone. Can I eat a kilo of ribs? I can eat a kilo of these ribs, and lick the plate, unbelievable.
Lorena Munos-Graziano
Oh my goodness, I've made these ribs quite a few times now and it's always a hit with the family. They love these ribs my family always ask me to make these when there is a family gathering. I just love how easy they are to make. Thanks for an awesome recipe Donna.
Rikki Shinners
After watching the episode where Donna made these I thought they would be fantastic ... but they weren't. Not sure what went wrong but it just didn't work for me. Flavour was just not right and the sauce on the ribs had to be cooked for way longer to become sticky and by then the meat was a bit dry. Probably won't make them again.