seared quince-glazed lamb
with warm lentil salad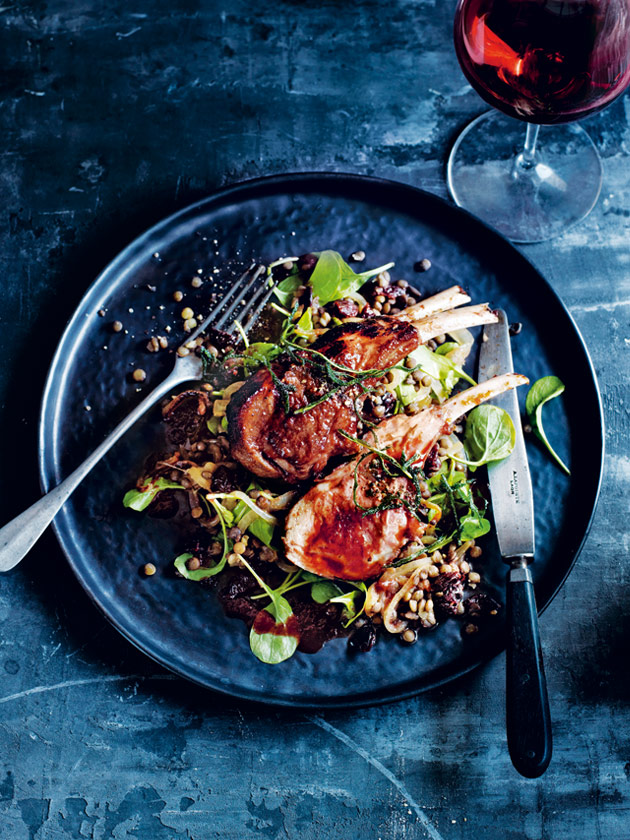 4 x 120g double lamb cutlets, trimmed+

sea salt and cracked black pepper

8 sage leaves, shredded

100g store-bought quince paste, chopped

1 cup (250ml) beef stock

½ teaspoon cracked black pepper, extra

warm lentil salad
¼ cup (60ml) extra virgin olive oil

2 onions, thinly sliced

3 cups (540g) cooked Puy (French) lentils

½ cup (75g) dried sour cherries, halved

2 tablespoons red wine vinegar

1½ tablespoons Dijon mustard

2 cups (80g) wild rocket leaves
Preheat oven to 180°C (350°F). Heat a large ovenproof frying pan over medium heat. Sprinkle the lamb with salt and pepper and cook for 2 minutes each side or until well browned. Remove from the pan and set aside. Wipe the pan clean and add the sage, quince paste, stock and the extra pepper. Bring to a simmer, stirring until the paste is melted. Return the lamb to the pan, turn a few times to coat in the glaze and transfer to the oven. Roast for 6 minutes or until the lamb is cooked to your liking.

To make the warm lentil salad, heat 1 tablespoon of the oil in a large non-stick frying pan over medium heat. Add the onion and cook for 6 minutes or until softened. Add the lentils and cherries, stir to combine and remove from the heat. Place the vinegar, mustard, salt, pepper and the remaining 2 tablespoons of oil in a small bowl. Whisk to combine and pour the dressing over the salad. Add the rocket just before serving and toss to combine.

Divide the salad between serving plates and top with the lamb. Spoon any extra glaze over the lamb to serve. Serves 4
+ If only small lamb cutlets are available, you can serve 3 per person.
Wine note: balanced and lively Cloudy Bay Pinot Noir, with its subtle rose notes, will lift the flavour of the sweet quince glaze to new heights.
NEIL MAYOR
Made this for Sunday dinner as a lighter change from the usual roast..was superb..Just fried the lamb fat on it's edge first to render and then followed recipe in reduced quantities that were enough for 2 people..Will become a regular .