sticky asian-spiced pork with plums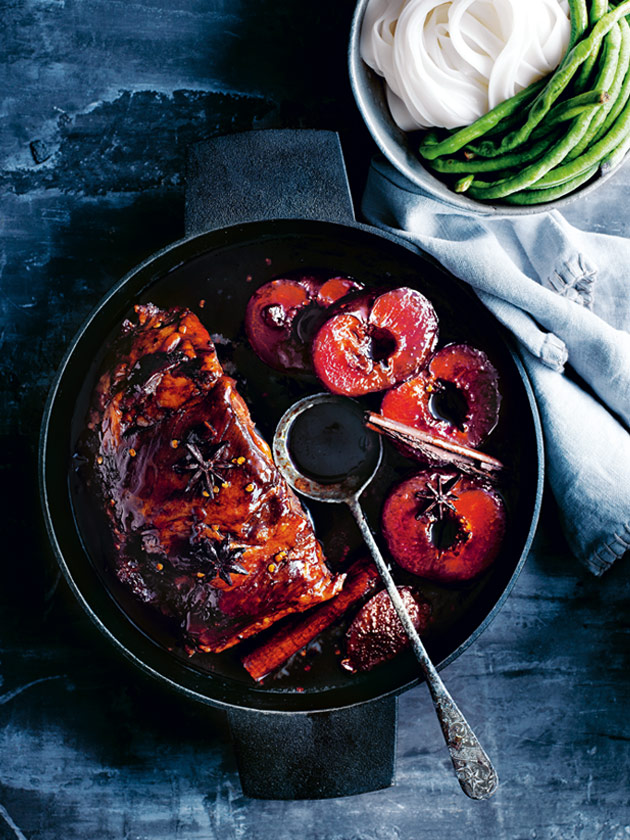 6 star-anise

4 sticks cinnamon

6 large strips orange rind

6 thick slices ginger

¼ cup (60ml) dark soy sauce

1 long red chilli, halved

1¼ cups (310ml) chicken stock

1 cup (250ml) Chinese cooking wine (Shaoxing)

¾ cup (135g) light brown sugar

1 x 750g piece boneless pork neck

4 plums, halved

steamed rice noodles and snake beans, to serve

Preheat oven to 180°C (350°F). Place a medium heavy-based saucepan over medium heat. Add the star-anise, cinnamon, orange rind, ginger, soy, chilli, stock, cooking wine and sugar and bring to the boil. Cook for 5 minutes or until thickened slightly.

Line a medium deep-sided baking dish with non-stick baking paper. Place the pork in the dish and top with the glaze. Cover tightly with non-stick baking paper and aluminium foil and roast for 1 hour 30 minutes. Turn the pork, re-cover tightly and roast for a further 1 hour 30 minutes. Remove the cover, add the plums and roast, uncovered, for 15–25 minutes or until the pork is tender and golden brown.

Slice the pork and divide between serving plates with the rice noodles and beans. Spoon the roasted plums and the glaze over the pork to serve. Serves 4.
Wine note: harness the sweet spices and smoky oak characters of Cloudy Bay Pinot Noir to highlight the Asian aromatics and plums in this rich, flavourful slow-cooked pork.
There are no comments for this entry yet.