spicy lamb pizza
with vine-ripened tomatoes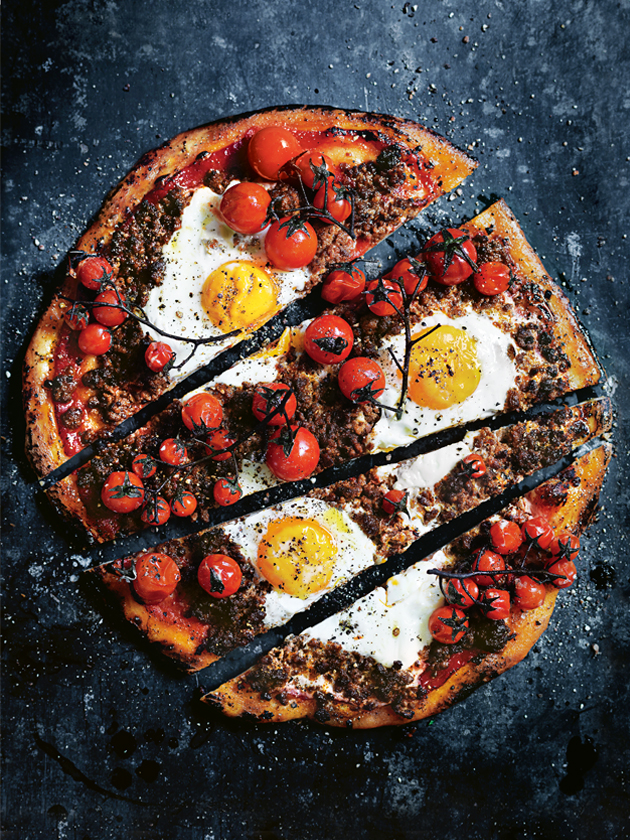 1 tablespoon extra virgin olive oil, plus extra for drizzling

400g lamb mince

2 tablespoons tomato paste

2 teaspoons ground cumin

1 teaspoon dried chilli flakes

¼ teaspoon ground allspice

1 teaspoon smoked paprika

1 teaspoon ground coriander

4 cloves garlic, crushed
sea salt and cracked black pepper

⅔ cup (180g) tomato puree (tomato passata)

6 eggs
500g vine-ripened cherry tomatoes

pizza dough
1 teaspoon dried yeast

¼ teaspoon caster (superfine) sugar

¾ cup (180ml) lukewarm water

1¾ cups (260g) 00 flour+

1 teaspoon sea salt flakes

Preheat oven to 240°C (475°F). To make the pizza dough, place the yeast, sugar and water in a small bowl and mix to combine. Set aside in a warm place for 5 minutes or until bubbles appear on the surface.

Place the flour and salt in a large bowl and make a well in the centre. Add the yeast mixture and mix together with well-floured hands to form a dough.

Turn out the dough on a lightly floured surface and knead for 4–5 minutes or until smooth and elastic. Place in a large lightly greased bowl, cover with a clean, damp cloth and set aside in a warm place for 30 minutes or until the dough has doubled in size.

While the dough is proving, heat the oil in a large frying pan over high heat. Add the lamb, tomato paste, cumin, chilli, allspice, paprika, coriander, garlic, salt and pepper and cook, breaking up the mince with a wooden spoon, for 10 minutes or until golden. Place 2 large baking trays in the oven.

Divide the dough in half, place each half on a sheet of baking paper and roll out to a 30cm round. Spread each round with the puree and top with the lamb mixture, eggs and tomatoes.

Carefully remove the hot trays from the oven and slide 1 round onto each tray. Cook for 10 minutes or until golden and the eggs are just set. Sprinkle with salt and pepper and drizzle with extra oil to serve. Makes 2.

+ 00 flour is a superfine flour that makes for soft and stretchy dough. It's available from the baking aisle of most supermarkets.
There are no comments for this entry yet.