sticky miso chicken
roasted on sesame pumpkin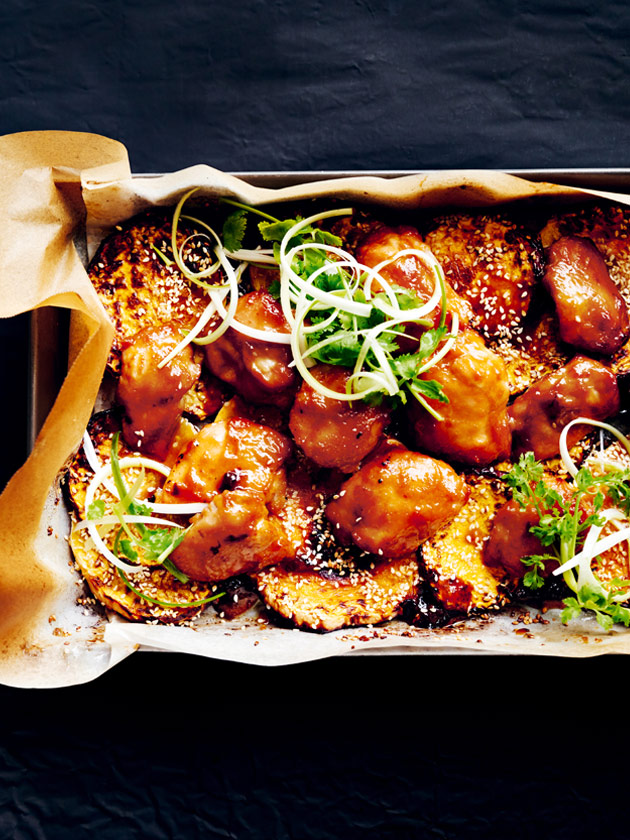 1.5kg (3lb 3 oz) butternut pumpkin (butternut squash), skin scrubbed and thinly sliced

2 tablespoons extra virgin olive oil

2 tablespoons sesame seeds, plus extra for sprinkling

sea salt flakes

green onion (scallion), thinly sliced and coriander (cilantro)

leaves, to serve
sticky miso chicken
⅓ cup (95g/3¼ oz) white miso paste (shiro)

1 tablespoon sesame oil

1 tablespoon soy sauce

¼ cup (60ml/2 fl oz) mirin (Japanese rice wine)

2 tablespoons firmly packed brown sugar

1 tablespoon brown rice vinegar

6 x 125g (4½ oz) chicken thigh fillets, trimmed and halved
Preheat oven to 220°C (425°F).

Place pumpkin, oil, sesame seeds and salt in a bowl and toss to coat. Place on a large baking tray lined with non-stick baking paper. Roast the pumpkin for 20 minutes.

To make the sticky miso chicken, place the miso, oil, soy, mirin, sugar and vinegar in a large bowl and whisk to combine. Add the chicken and toss to coat. Set aside until ready to use.

When the pumpkin has cooked for the 20 minutes, top the
pumpkin with the miso chicken and pour over any remaining miso marinade. Roast for a further 20 minutes or until the chicken is cooked through and tender.
To serve, divide between plates, sprinkle with extra sesame
seeds and top with green onion and coriander. Serves 4
DONNA'S TIP
+ The perfect balance of salty and sweet, miso chicken is the absolute star in these recipes. Get creative with a simple switch of veg and herbs for a tasty new spin. Permission granted!
Photography: Con Poulos
Jennifer Haddrick
Made as per the recipe and it was delicious! Added to the regulars list!
Kylie Perrin
This was divine. I replaced the chicken with ocean trout cutlets.
RELATED VIDEO