super green reuben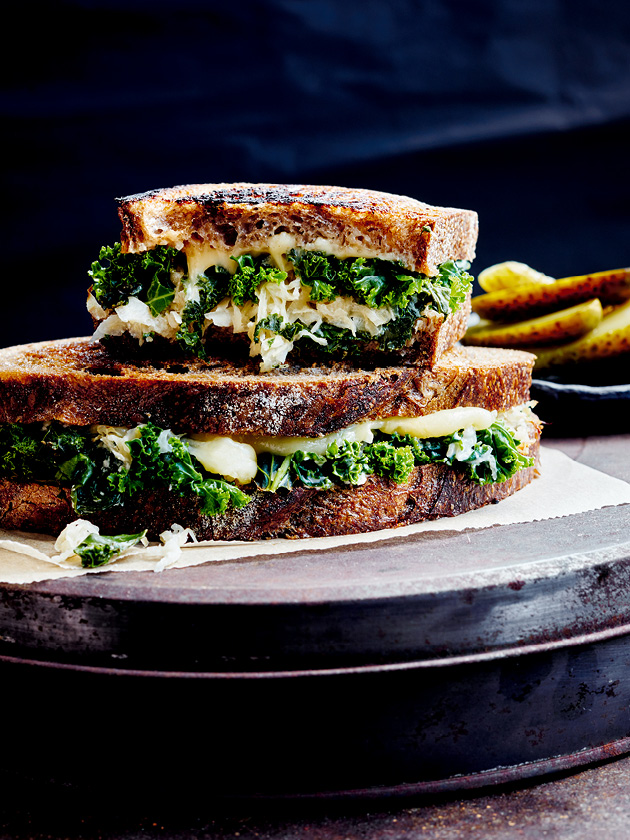 2 tablespoons extra virgin olive oil, plus extra to brush
2 cloves garlic, sliced
2 tablespoons roughly chopped oregano leaves
6 cups (180g/6¼ oz) roughly chopped kale (stems removed)
300g (10½ oz) baby spinach leaves
2 tablespoons chopped dill
125g (4½ oz) cream cheese
1 tablespoon horseradish cream
1¼ cups (150g/5¼ oz) sauerkraut, drained
sea salt and cracked black pepper
8 slices rye or wholemeal (whole-wheat) bread
4 large slices Swiss cheese
dill pickles, to serve
Heat a large non-stick frying pan over medium-high heat.
Add the oil, garlic and oregano and cook for 2 minutes or until soft. Add the kale in batches and cook, stirring, for 5 minutes or until wilted.
Add the spinach, dill, cream cheese, horseradish and sauerkraut to the pan and stir for 2 minutes or until spinach is wilted and the ingredients are combined. Season with salt and pepper.
Pile the kale mixture onto 4 slices of the bread and top with the cheese and remaining bread slices.
Wipe out the pan and place over medium heat. Brush the bread with the extra oil and cook for 4 minutes each side or until the bread is well toasted and the cheese is melted. Serve with pickles. Serves 4
DONNA'S TIP
+ I love bringing balance to a guilty pleasure, like this Reuben. Here's your chance to enjoy the most delicious crunchy and cheesy toasted sandwich while still looking after yourself with a good dose of nourishing greens.
Photography: Con Poulos
There are no comments for this entry yet.
RELATED VIDEO