better-for-you chocolate fudge cake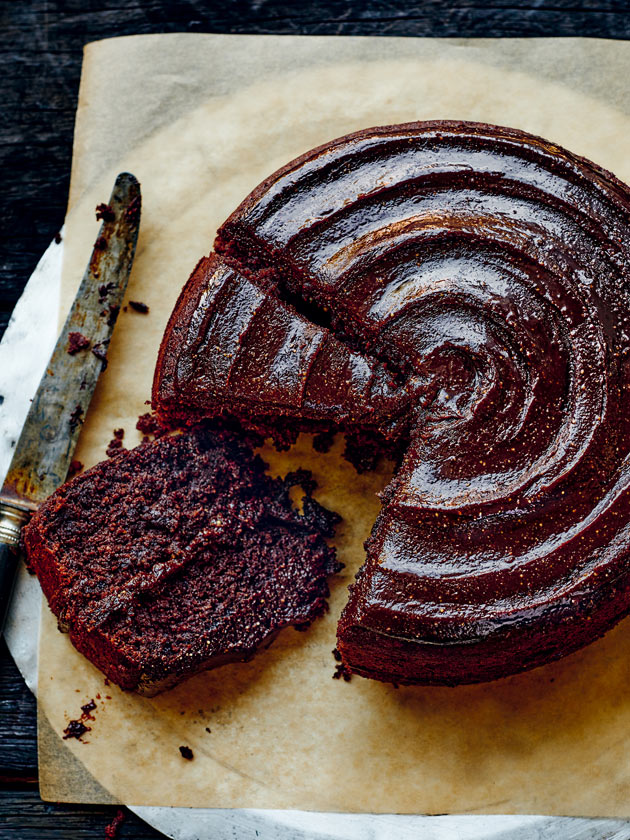 ¾ cup (180ml/6 fl oz) light-flavoured extra virgin olive oil
½ cup (125ml/4¼ fl oz) milk or nut milk
½ cup (125ml/4¼ fl oz) pure maple syrup
6 eggs
½ cup (110g/4 oz) CSR raw caster (superfine) sugar
2 teaspoons vanilla extract
3 teaspoons baking powder
¾ cup (75g/2½ oz) cocoa powder, sifted
3½ cups (420g/14¾ oz) almond meal (ground almonds)
chocolate frosting
¾ cup (180g/6¼ oz) smooth cashew butter
½ cup (125ml/4¼ fl oz) pure maple syrup

⅓

cup (35g/1¼ oz) cocoa powder, sifted
2 tablespoons milk or nut milk
Preheat oven to 160°C (325°F). Line 2 x 20cm (8 inch) round cake tins with non-stick baking paper.
In a large bowl add oil, milk, maple, eggs, sugar and vanilla into a bowl and whisk to combine.
Sift the baking powder and cocoa over the milk mixture. Add the almond meal and mix to combine. Pour mixture into prepared tins, smoothing the surface. Bake for 30–35 minutes until cooked when tested with a skewer. Cool in tins for 10 minutes then turn out onto wire racks to cool.
To make the chocolate frosting, mix together the cashew butter and maple. Sift over the cocoa powder and stir to combine. Add enough milk to make a spreadable consistency. Using a handheld mixer, beat until smooth.
Spread top of base with half the chocolate frosting. Layer with other cake. Top with remaining frosting. Serves 10–12
DONNA'S TIP


+ It looks and tastes super-naughty, but it's actually full of super-nice (and good-for-you) stuff. This rich, velvety cake topped with the simplest fudgy icing will become your go-to chocolate cake recipe.

Photography: Con Poulos
donna hay team
Hi Marleen, yes of course! Be sure to wrap each cake individually in plastic wrap.
Michelle Lane
Beautiful recipe. I swapped rice bran oil for the olive oil. Texture, moistness, and flavour are perfect. I love using almond meal for cakes and this will become a favourite recipe.
Christine Duguay
I substituted the olive oil for grapeseed oil and added in some orange zest. I also only made one cake with one layer of icing. We served it with a Tawny Port and it was a delicious pairing.
RELATED VIDEO