carrot cake granola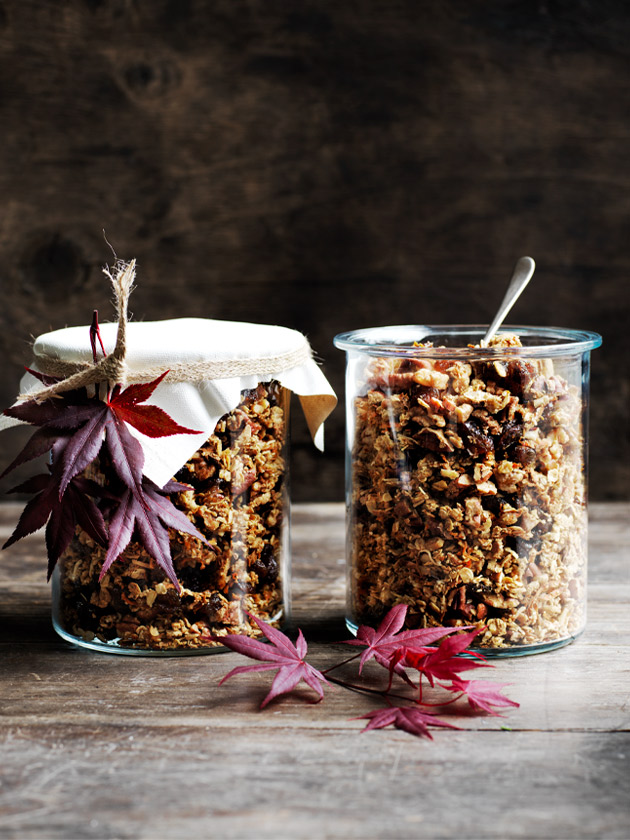 4 cups (360g) rolled oats
2 cups (240g) grated carrot
2 cups (230g) roughly chopped pecans
2 cups (200g) roughly chopped walnuts
1 cup (75g) shredded coconut
3 teaspoons ground cinnamon
1½ teaspoons ground ginger
1½ teaspoons ground nutmeg
1 cup (250ml) pure maple syrup
½ cup (125ml) light-flavoured extra virgin olive oil
1 tablespoon vanilla extract
1⅓ cups (220g) raisins+
Preheat oven to 160°C (325°F). Line 3 large baking trays with non-stick baking paper.
Place the oats, carrot, pecans, walnuts, coconut, cinnamon, ginger and nutmeg in a large bowl and mix to combine. Add the maple syrup, oil and vanilla and gently mix to coat.
Divide the mixture between the prepared trays, spreading it out evenly. Bake for 20 minutes. Stir the mixture and bake for a further 10–15 minutes or until the granola is golden and crunchy. Allow to cool on the trays. Add the raisins and toss through to serve. Makes 12 cups
+ You can use dried cranberries instead of raisin.
Tips:
The granola will keep in an airtight container for up to 4 weeks.
To Gift:
If you're gifting this granola, store in glass jars, cover with a lid and decorate with a piece of calico that is tied with natural jute ribbon or string. For a decorative touch, add a sprig of maple leaves or any other foliage that you have in your garden.
Photography: Chris Court
Jude Donahoo
This is delicious. Make sure you use big baking trays or it'll take longer. Yum