lamb, rosemary and mint sausage rolls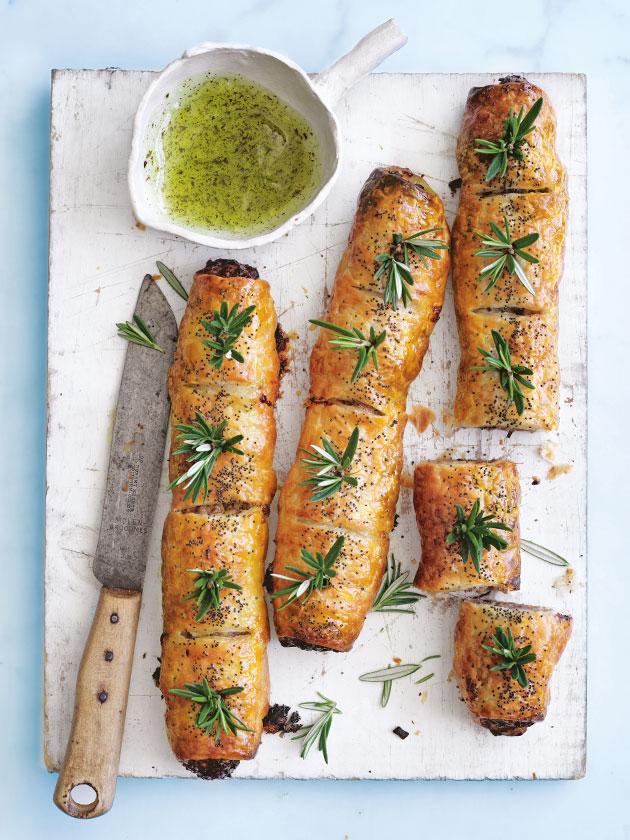 1 tablespoon extra virgin olive oil

1 onion, finely chopped

¼ cup rosemary leaves

2 cloves garlic, crushed

500g lamb mince

¼ cup (80g) store-bought mint jelly, plus extra, to serve

2 cups (140g) fresh breadcrumbs

1 teaspoon sea salt flakes

2 eggs

2 sheets frozen puff pastry, thawed and halved

1 teaspoon poppy seeds

2 sprigs rosemary, extra, cut into 3cm lengths

Preheat oven to 200°C (400°F). Heat the oil in a large non-stick frying pan over medium heat. Add the onion, rosemary and garlic and cook for 5–6 minutes, or until softened. Place in a large bowl. Add the lamb, mint jelly, breadcrumbs, salt and 1 of the eggs, and mix to combine.

Divide the mixture into 4 portions. Place one portion down the centre of each pastry half. Place the remaining eggs in a small bowl and lightly beat. Brush the pastry edges with egg and roll to enclose. Place the rolls, seam-side down, on 2 oven trays and brush with the egg.

Using a small sharp knife, cut slits in the top of the sausage rolls and sprinkle with poppy seeds. Cook for 25–30 minutes or until puffed and golden brown. Serve with rosemary sprigs and extra mint jelly. Serves 8.
Tips + Tricks
+ These sausage rolls can be made ahead of time. Store in an airtight container in the fridge for up to 3 days, or in the freezer for up to 1 month. To reheat, defrost the sausage rolls and heat in the oven at 180°C (350°F) until warm.
There are no comments for this entry yet.