sweet soy ginger fried rice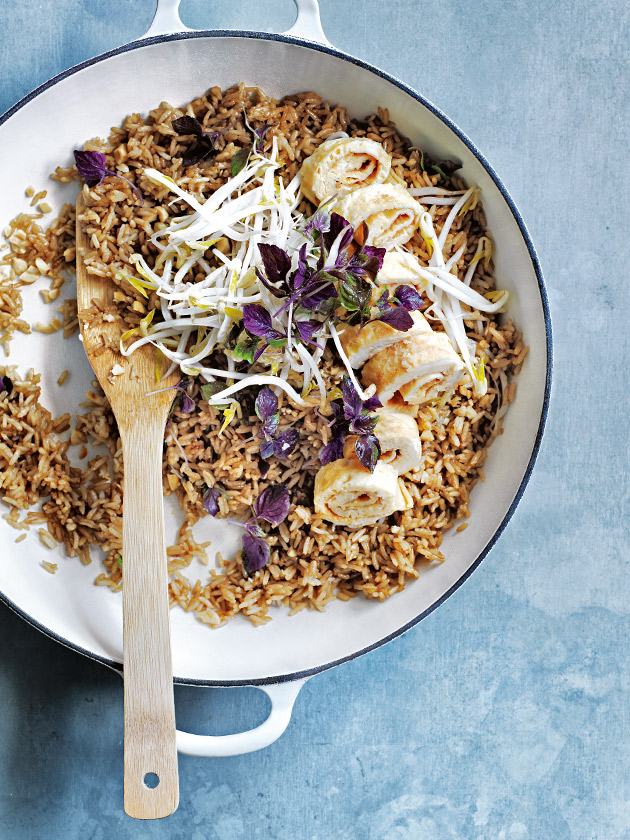 2 tablespoons peanut oil

1 tablespoon grated ginger

2 cloves garlic

4 cups cooked long-grain rice+, cooled

2 tablespoons kecap manis (sweet soy sauce)

3 eggs, lightly beaten

2 tablespoons salted peanuts, chopped

3 cups bean sprouts

micro (baby) purple shiso leaves, to serve

Heat half the oil in a wok or large frying pan over high heat. Add the ginger and garlic

and cook for 30 seconds. Add the rice and sweet soy sauce and cook for 4 minutes.
While the rice is cooking, heat the remaining oil in a small non-stick frying pan over high heat. Add the eggs and cook for 1–2 minutes or until just golden brown.
Carefully turn

over the omelette and cook for a further

1 minute or until just set. Remove from pan, roll up and cut into slices.
Divide the rice between bowls and top with the omelette, peanut, bean sprouts and shiso to serve. Serves 2 or 4 as a side.

+ 1⅓ cups (265g) uncooked rice will yield 4 cups cooked rice.
There are no comments for this entry yet.