banana, chia and blueberry loaf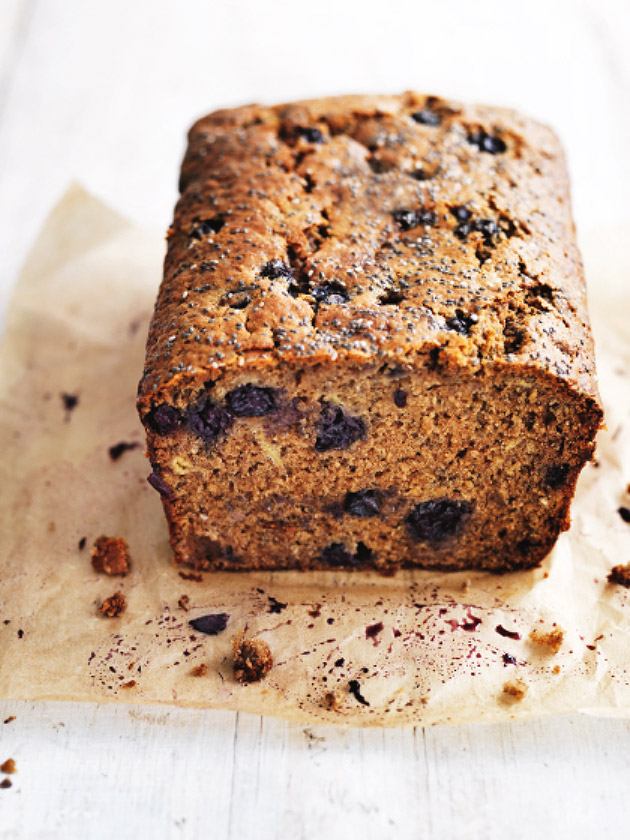 1½ cups (225g) buckwheat flour

1 cup (220g) rapadura or coconut sugar
1 teaspoon baking powder

½ teaspoon bicarbonate of (baking) soda

2 teaspoons ground cinnamon

1 cup mashed ripe bananas (approximately 3 bananas)

1 egg

½ cup (140g) plain (natural) yoghurt

¼ cup (60ml) grapeseed oil

⅓ cup (80ml) maple syrup, plus extra for brushing

2 teaspoons vanilla bean paste

¼ cup (45g) chia seeds

1 cup (150g) blueberries

Preheat oven to 160°C (325°F). Place the flour, sugar, baking powder, bicarbonate of soda, chia seeds and cinnamon in a large bowl and mix to combine.
Add the banana, egg, yoghurt, blueberries, oil, maple syrup and vanilla and mix to combine. Pour into a lightly greased 21cm x 10m x 7cm (1.75-litre-capacity) loaf tin lined with non-stick baking paper.
Bake for 1 hour–1 hour 10 minutes or until cooked when tested with a skewer. Brush with extra maple syrup to serve. Serves 6–8.
There are no comments for this entry yet.