brown rice and tofu teriyaki balls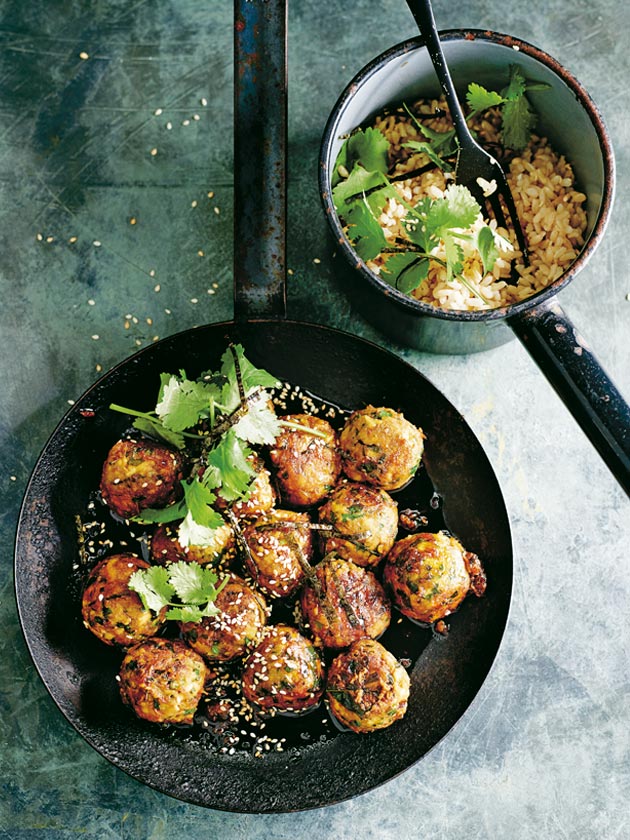 400g can chickpeas (garbanzos), drained and rinsed

200g firm tofu, grated

2 teaspoons soy sauce

¼ cup (40g) wholemeal (whole-wheat) flour

2 teaspoons grated ginger

2 cloves garlic, crushed

2 green onions (scallions), finely chopped

1 cup (20g) baby spinach, finely chopped

2 teaspoons sesame oil

1 sheet nori (dried seaweed), thinly sliced

1 cup coriander (cilantro) leaves

toasted sesame seeds and steamed brown rice, to serve
teriyaki sauce
1 teaspoon grated ginger

¼ cup (60ml) mirin (Japanese rice wine)

¼ cup (60ml) soy sauce

2 tablespoons rapadura sugar

¼ cup (60ml) water

To make the teriyaki sauce, place the ginger, mirin, soy sauce, sugar and water in a medium bowl, stir to combine and set aside.

To make the tofu balls, place the chickpeas in a food processor and process until smooth. Place in a large bowl, add the tofu, soy sauce, flour, ginger, garlic, onion and spinach and stir well to combine. Roll tablespoons of the mixture into balls.
Heat the oil in a large heavy-based frying pan over medium heat and cook the tofu balls, turning, for 4 minutes or until lightly golden. Reduce the temperature to low, add the teriyaki sauce and cook, turning, for 4 minutes or until the sauce has thickened slightly.
Divide the tofu balls and nori between bowls. Top with the coriander and sesame seeds and serve with the rice. Serves 4.

Penny Yerondais
I made this tonight. I added steamed book toy, beans and carrots.
The tofu balls had great flavour but unfortunately were not very firm and kept crumbling throughout the cooking process. I would suggest refrigerating the balls for at least 30 mins prior to cooking.
The sauce was delicious, however it did not just thicken, it disappeared (absorbed by the balls maybe?). I would suggest making extra of the sauce, adding the original amount to the pan with the tofu balls, and warming the extra amount in a separate pan to drizzle over the dish.