cacao caramel bites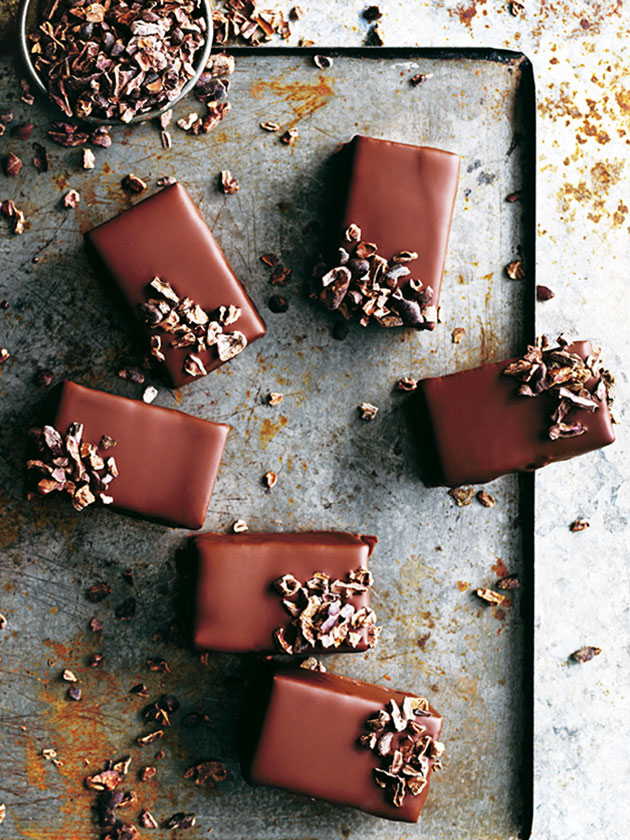 30 fresh dates (450g), pitted

¼ cup (80g) hazelnut spread+

2 teaspoons vanilla bean paste

2 tablespoons melted coconut oil

¼ cup (25g) cacao powder

100g 70% dark chocolate, melted

¼ cup (45g) cacao nibs

Place the dates, hazelnut spread, vanilla, coconut oil and cacao in a food processor and process for 3–4 minutes or until smooth. Spoon into a lightly greased 20cm x 10cm loaf tin lined with non-stick baking paper, smoothing the top with the back of a spoon++. Freeze for 4 hours or until firm.

Cut into 14 bars. Using a fork, dip one bar into the melted chocolate, allowing the excess to drip off. Place on a baking tray lined with non-stick baking paper and sprinkle with cacao nibs. Repeat with the remaining bars and chocolate. Place in the refrigerator for 30 minutes to set. Serve. Makes 14.

+ Hazelnut spread can be found in the health food aisle of the supermarket. You can also use a different nut spread.
++ The mixture will be quite sticky. Dip the spoon into melted coconut oil to help spread out the mixture.
Tip: You can store these bites in an airtight container in the refrigerator for up to 3 weeks (for a harder caramel) or at room temperature for up to a week (for a softer caramel).
There are no comments for this entry yet.
Tags:
cacao
,
cacao nibs
,
cacao powder
,
caramel
,
coconut oil
,
dark chocolate
,
dates
,
fresh and light
,
snacks
,
treats
,
vanilla
,