cacao caramel bites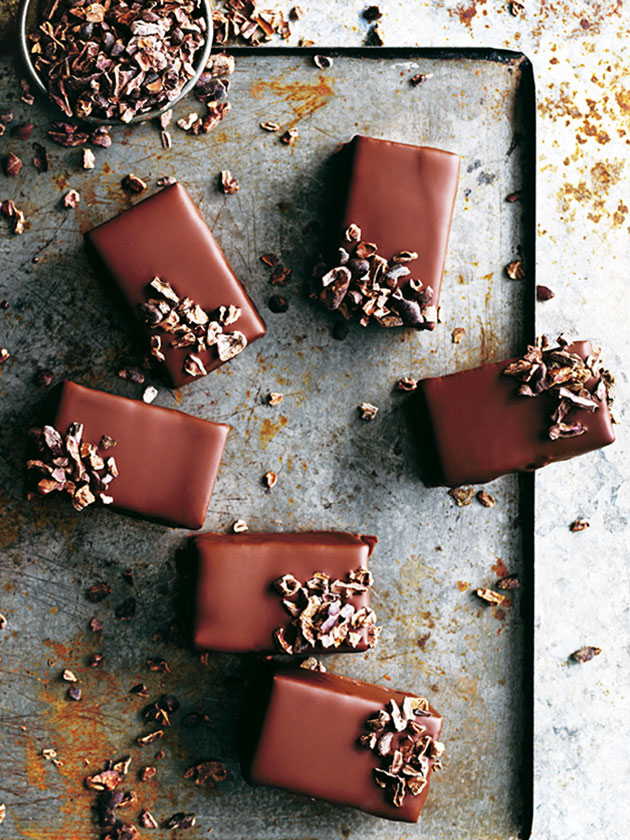 30 soft fresh dates (600g), pitted

¼ cup (80g) natural hazelnut butter+

2 teaspoons vanilla bean paste or vanilla extract

2 tablespoons melted coconut oil

¼ cup (25g) raw cacao or cocoa powder

100g 70% dark chocolate

¼ cup (45g) raw cacao nibs

Line a 10cm x 20cm loaf tin with non-stick baking paper. Place the dates, hazelnut butter, vanilla, oil and cacao in a food processor and process for 3–4 minutes or until smooth. Using the back of a spoon, press the mixture into the tin and smooth the surface++. Freeze for 4 hours or until firm.

Line a tray with non-stick baking paper. Place the chocolate in a heatproof bowl over a saucepan of simmering water (the bowl shouldn't touch the water) and stir until melted and smooth.

Remove the slice from the tin and cut into 14 bars. Using a fork, dip each bar into the chocolate, allowing any excess to drip off. Place on the tray and sprinkle with the cacao nibs. Refrigerate for 30 minutes or until set. Makes 14

+ Find hazelnut butter, or spread, in the health food aisle of the supermarket. You could use almond or macadamia butter here, too, just stick to natural nut spreads to skip out on unwanted oils, sodium and sugar.
++ If the mixture is sticky, grease the spoon in a little melted coconut oil to help you spread and smooth it.
Tip: Keep these bites refrigerated in an airtight container for up to 3 weeks (for a firmer caramel) or at room temperature for up to 1 week (for a softer caramel).
Photography: William Meppem
There are no comments for this entry yet.
Tags:
cacao
,
cacao nibs
,
cacao powder
,
caramel
,
coconut oil
,
dark chocolate
,
dates
,
fresh and light
,
modern baking
,
snacks
,
treats
,
vanilla
,