cauliflower falafels
with creamy tahini-yoghurt sauce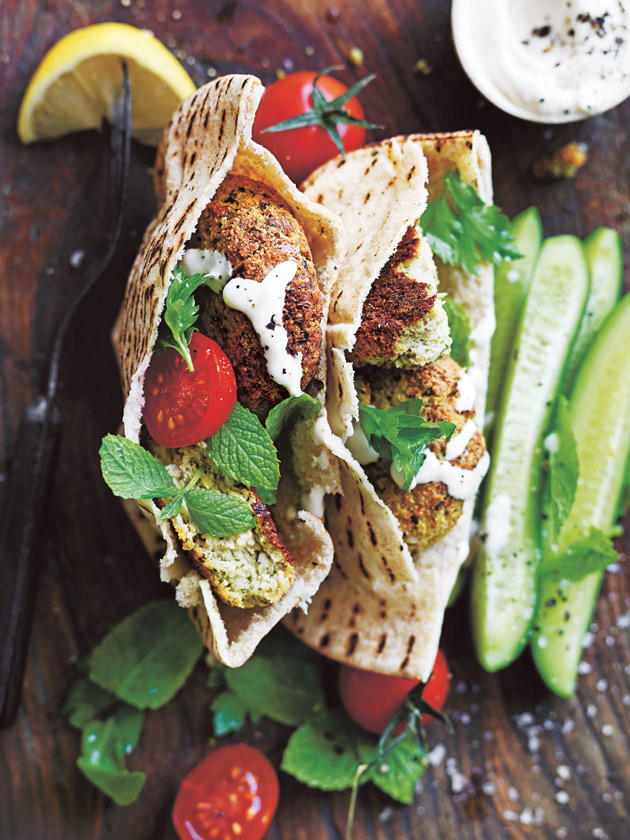 250g cauliflower florets (from approximately ½ cauliflower), chopped

¼ cup (70g) tahini

1 cup flat-leaf parsley leaves

½ cup mint leaves

2 tablespoons chopped preserved lemon rind

1 long green chilli, seeds removed and chopped

3 green onions (scallions), roughly chopped

1½ cups (180g) almond meal (ground almonds)

sea salt and cracked black pepper

4 wholemeal pita breads, halved

6 baby cucumbers (cukes), thinly sliced

lemon wedges, to serve

tomato and herb salad
1 cup mint leaves

1 cup flat-leaf parsley leaves

250g cherry tomatoes, quartered

1 teaspoon lemon juice

tahini yoghurt sauce
1 cup (280g) natural Greek-style (thick) yoghurt

⅓ cup (90g) tahini

⅓ cup (80ml) lemon juice

Preheat oven to 180°C (350°F). To make the cauliflower falafels, place the cauliflower, tahini, parsley, mint, preserved lemon rind, chilli and onion in a food processor and process for 15–20 seconds or until the mixture just comes together.
Place the mixture in a large bowl, add the almond meal, salt and pepper and stir to combine. Shape ¼ cup of the mixture into a patty and place on a large oven tray lined with non-stick baking paper. Repeat with remaining mixture. Cook for 15–20 minutes or until golden and firm.
To make the tahini yoghurt sauce, place the yoghurt, tahini and lemon juice in a bowl. Sprinkle with salt and stir to combine.

To make the salad, place the mint, parsley, tomato and lemon juice in a bowl and toss to combine. Fill the pita bread with the falafels, salad and tahini yoghurt sauce. Serve with baby cucumbers and lemon wedges. Serves 4.
Jessica Singh
They are delicious - highly recommended!