choc-almond mint fudge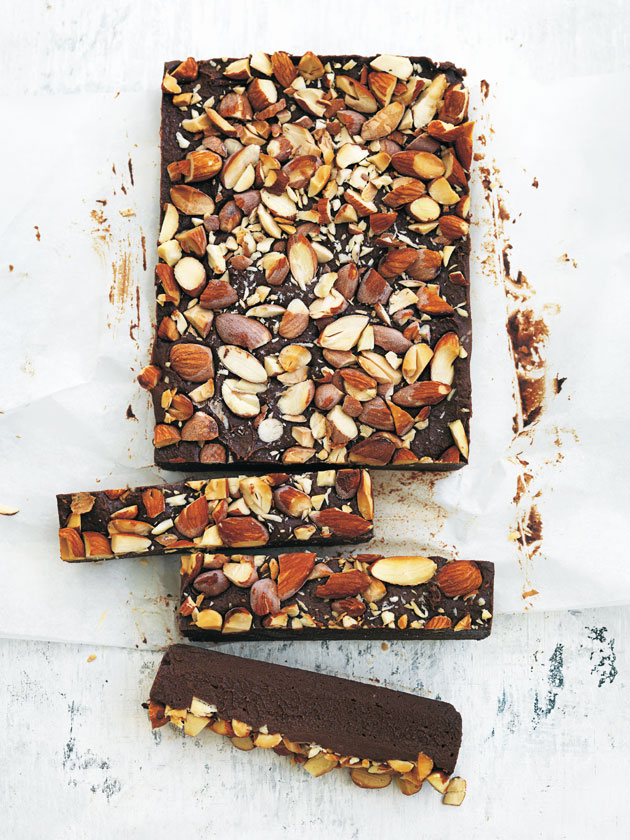 20 fresh dates (300g), pitted

¼ cup (75g) almond butter+

¼ cup (50g) coconut oil, melted

½ cup (50g) raw cacao powder

½ teaspoon peppermint extract++

1 teaspoon vanilla bean paste

⅓ cup (55g) toasted almonds, roughly chopped

Place the dates in a bowl and cover with boiling water. Set aside for 10 minutes to soften. Drain.

Place the dates and almond butter in a food processor and process for 1–2 minutes or until smooth. Add the coconut oil, cacao, peppermint extract and vanilla and process for 1 minute or until smooth. Press the mixture into a 10cm x 20cm slice tin lined with non-stick baking paper and press the almond into the top. Freeze for 1 hour or until set. Slice into 2cm logs to serve. Makes 10.

Tips:
Store in an airtight container in the freezer for up to 2 weeks.
+ Almond butter, or almond spread, is made from 100 per cent ground almonds and is available from the health food aisle of your supermarket and from health food stores.
++ Peppermint extract is from supermarkets and health food stores.
Ann Eades
Love this slice, so easy to make and tastes delicious - doesn't have that 'date' taste that some raw slices have.
Megan Richardson
This fudge is really delicious. You can't tell that it doesn't have any chocolate in it - it is really sweet and the peppermint gives it a really nice flavour.