coconut panna cotta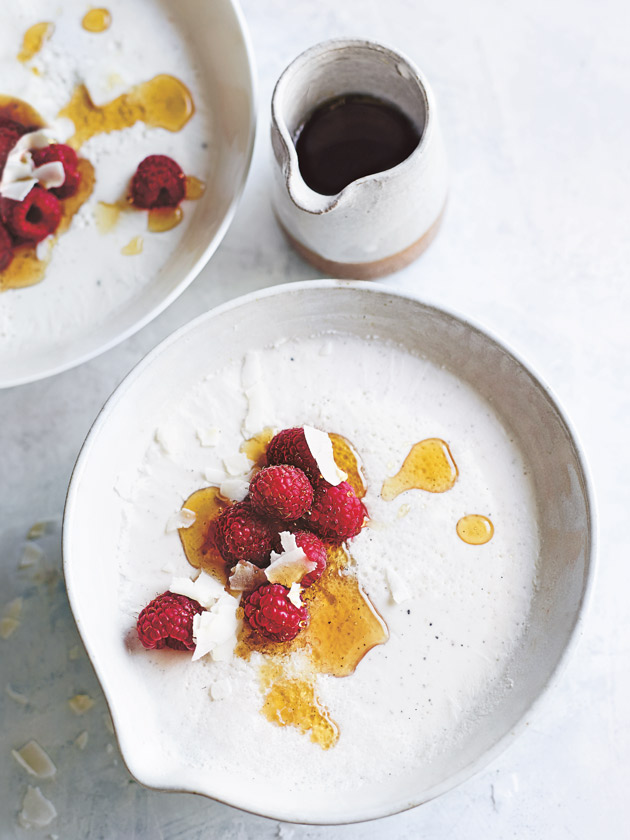 2 tablespoons water

2 teaspoons gelatine powder

1 cup (250ml) coconut water

1 cup (250ml) coconut cream

1 vanilla bean, split and seeds scraped

coconut flakes, to serve

125g raspberries, to serve

1 tablespoon light agave syrup+

Place the water in a small bowl, sprinkle over the gelatine and stir to combine. Set aside for 5 minutes or until the gelatine has absorbed.
Place the coconut water, coconut cream and vanilla bean and seeds in a saucepan over low heat and cook for 3 minutes. Add the gelatine mixture and cook, stirring, for 3 minutes or until the gelatine has dissolved.
Strain and pour into 4 x ¾-cup-capacity (180ml) bowls. Refrigerate for 2 hours or until set. Sprinkle with coconut flakes and serve with the raspberries and agave syrup. Makes 4.
+ Agave syrup is a natural sweetener from the agave plant. Find it in health food stores and some supermarkets.
There are no comments for this entry yet.