crispy chia tofu and brussels sprouts stir-fry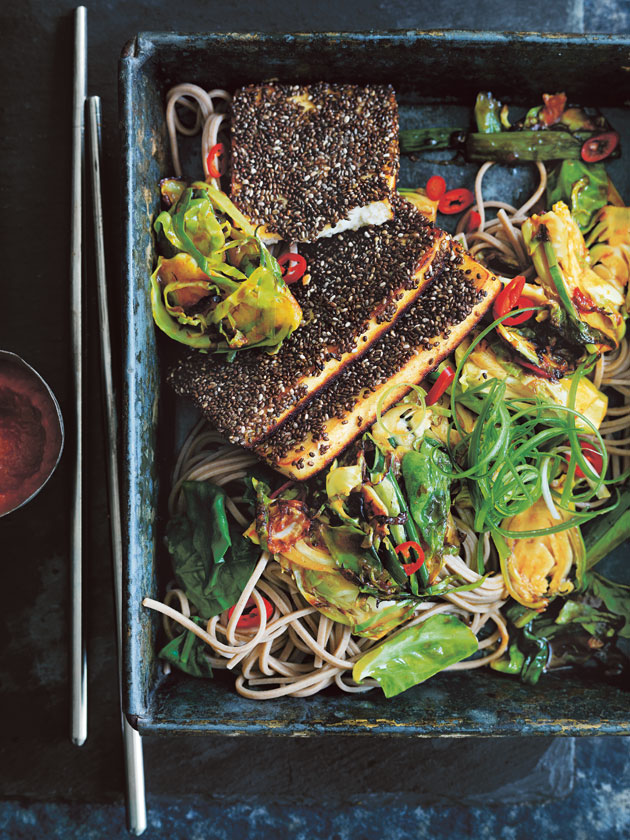 ⅓ cup (80ml) hoisin sauce

2 tablespoons sriracha hot chilli sauce, plus extra to serve

⅓ cup (80ml) water

200g soba noodles

1 tablespoon sesame oil

¼ cup (45g) black chia seeds

350g firm tofu, cut into 8 slices

500g brussels sprouts, trimmed and shredded

3 cloves garlic, thinly sliced

1 bird's-eye chilli, thinly sliced, plus extra to serve

2 green onions (scallions), cut into 6cm pieces

5 cups (100g) baby spinach leaves

2 green onions (scallions), extra, finely shredded, to serve

Place the hoisin, sriracha and water in a bowl. Stir to combine. Cook the noodles in a saucepan of boiling water over high heat for 2–3 minutes. Drain and refresh under cold running water.

Heat half the oil in a large wok or frying pan over high heat. Place the chia seeds on a plate. Lightly brush both sides of the tofu with the hoisin mixture and press one side into the chia seeds. Cook for 2 minutes each side or until golden. Remove, set aside and keep warm.

Add the remaining oil to the wok. Add the brussels sprouts, garlic, chilli and onion. Cook, stirring, for 2 minutes. Add the spinach and remaining hoisin mixture.
Toss to combine. Divide the noodles, vegetable mixture and tofu between bowls. Top with the extra onion and chilli and serve with extra sriracha. Serves 4.

Photography by William Meppem
There are no comments for this entry yet.