sweet potato omelette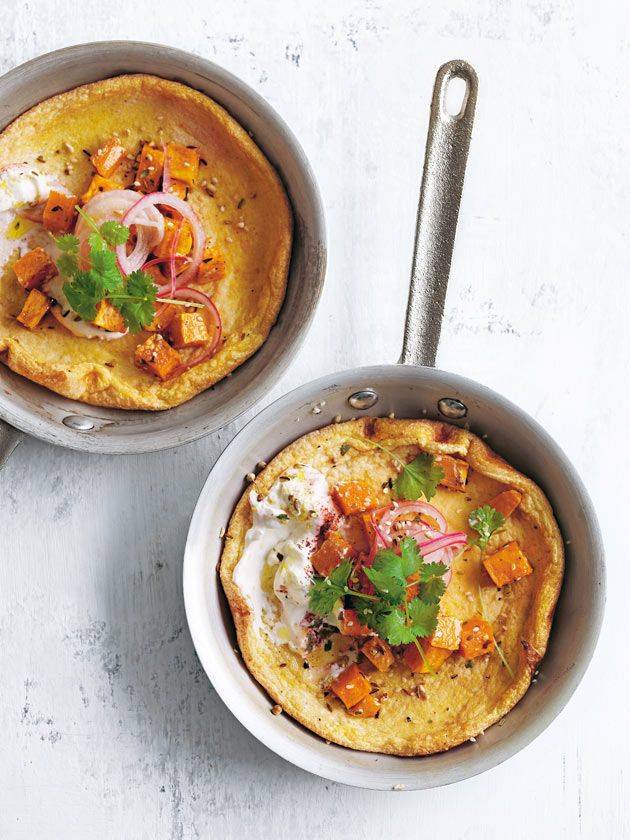 400g sweet potato (kumara), peeled and cut into cubes

2 teaspoons store-bought dukkah, plus extra to serve

1 tablespoon extra virgin olive oil

4 eggs, separated

sea salt and cracked black pepper

½ cup (130g) store-bought Persian labne (yoghurt cheese)

½ cup coriander (cilantro) leaves

pickled onion

⅓ cup (80ml) white wine vinegar

1 tablespoon honey

1 small red onion, thinly sliced

Preheat oven to 180°C (350°F). Place the sweet potato, dukkah and half of the oil on a large oven tray lined with non-stick baking paper. Toss to combine. Cook for 20–25 minutes or until tender. Remove the tray from the oven and preheat the grill (broiler) to high.

To make the pickled onion, place the vinegar and honey in a small bowl and stir to combine. Add the onion and set aside for 10 minutes.

Place the egg yolks, salt and pepper in a large bowl and whisk to combine. Place the eggwhites in a separate large bowl and, using a hand-held mixer, whisk until stiff peaks form. Add the eggwhites to the yolk mixture and gently fold to combine.

Heat 1 teaspoon of the remaining oil in a 12cm non-stick frying pan over medium heat. Add half the egg mixture and cook for 2–3 minutes or until the base is golden. Place under the grill (broiler) and cook for 1 minute or until lightly golden. Remove and keep warm. Repeat with remaining oil and egg mixture.

Top each omelette with the labne, sweet potato, pickled onion, coriander and extra dukkah to serve. Serves 2.

There are no comments for this entry yet.