lemongrass coconut chicken stir-fry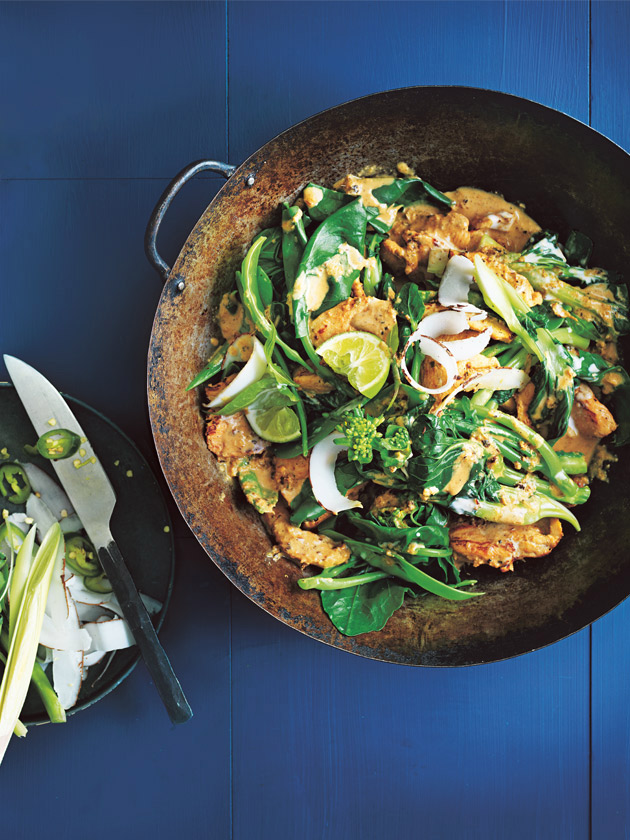 1 stalk lemongrass (white part only), chopped

2 cloves garlic

1 tablespoon finely grated ginger

2 teaspoons honey

1 teaspoon sea salt flakes

2 teaspoons fish sauce

1 kaffir lime leaf, chopped

500g chicken breast fillets, trimmed, thinly sliced

¾ cup (180ml) coconut milk

1 tablespoon vegetable oil

2 bunches gai lan (Chinese broccoli), trimmed

200g snow peas, trimmed

2 tablespoons lime juice

1 long green chilli, thinly sliced

1 cup Vietnamese mint leaves

shaved fresh coconut and lime wedges, to serve

Place the lemongrass, garlic, ginger, honey, salt, fish sauce and kaffir lime leaf in a small food processor and process until finely chopped. Transfer to a large bowl, add the chicken and ½ cup (125ml) coconut milk and toss to combine. Set aside to marinate for 10 minutes.

Heat a wok over high heat for 2 minutes or until starting to smoke. Add the oil and heat for 30 seconds, add the chicken mixture and cook, tossing, for 4 minutes or until golden. Remove and set aside. Add the gai lan and snow peas to the wok and cook for 2 minutes. Return the chicken to the wok, add the lime juice and remaining coconut milk and toss to combine. Top with the chilli, mint and coconut and serve with lime wedges. Serves 4.

Lenelle Williams
So delicious and easy to make!