orange and cinnamon syrup cake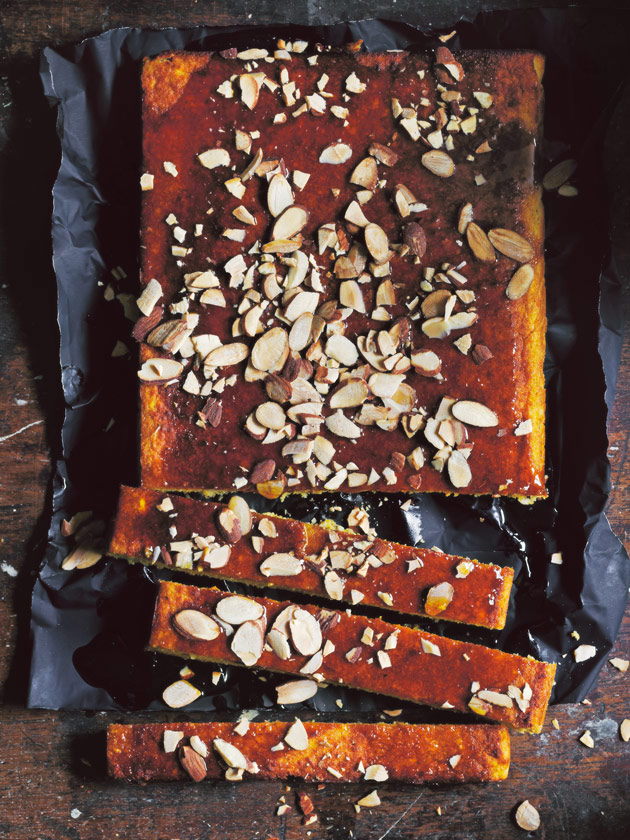 2 medium oranges (500g), skin on

3 eggs

½ cup (80g) rapadura sugar+

1¼ cups (150g) almond meal (ground almonds)

½ cup (80g) buckwheat flour

1 teaspoon baking powder

½ cup (40g) natural flaked almonds, toasted

orange cinnamon syrup
2 cups (500ml) orange juice

⅓ cup (50g) rapadura sugar+

2 sticks cinnamon

Place the oranges in a small saucepan, cover with water and weigh down with a small heatproof plate to submerge. Bring to a simmer over high heat and cook for 1 hour or until very soft. Drain and allow to cool slightly. Place the oranges in a food processor and process until smooth.

Preheat oven to 180°C (350°F). Line a 20cm x 30cm slice tin with non-stick baking paper. Place the eggs and sugar in the bowl of an electric mixer and whisk on high speed for 6–8 minutes or until thick and tripled in volume. Add the orange puree, almond meal, flour and baking powder and gently fold to combine. Pour into the tin and bake for 30 minutes or until cooked when tested with a skewer.

While the cake is baking, make the orange cinnamon syrup. Place the orange juice, sugar and cinnamon in a small saucepan over high heat and cook for 12–15 minutes or until slightly reduced.

Remove and discard the cinnamon and pour half the syrup over the hot cake in the tin. Allow to cool slightly.

Remove the cake from the tin, place on a serving plate and top with the remaining syrup. Sprinkle with the almonds to serve. Serves 8–10
+ Rapadura sugar, or panela, is extracted from the pure juice of cane sugar. It's evaporated over low heat, so it retains more of the minerals and vitamins from the cane.
Find it in the health food aisle of major supermarkets or in health food stores and specialty grocers.
donna hay team
Hi Sam, You are correct. This recipe requires the oranges to be boil with the skin on and then you add the whole orange to the food processor to process until smooth. Hope that helps!
Sam Ducey
Quick question…step one asks to boil the oranges. Do you do this with the skin on AND puree with the skin on?