peanut butter bliss balls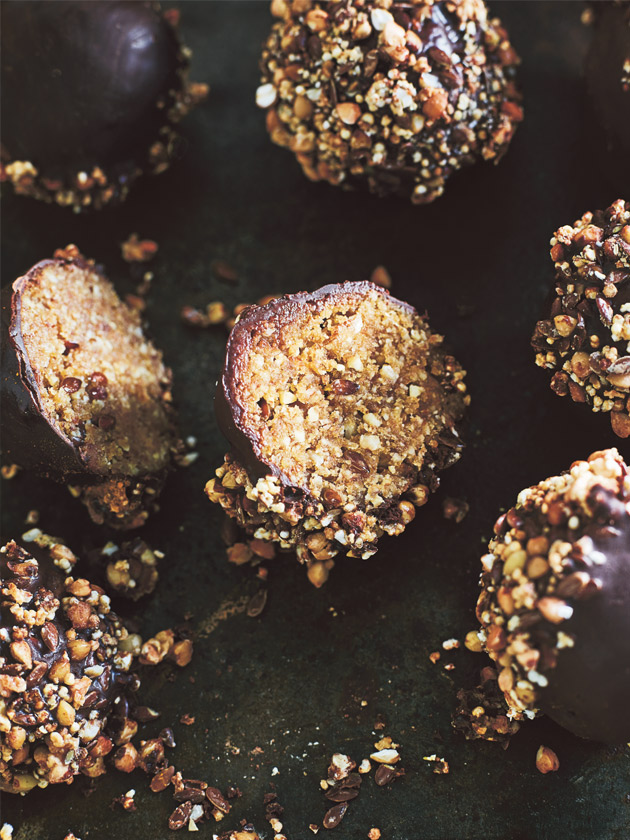 2 tablespoons peanut butter

1 cup (160g) almonds

¾ cup (105g) salted peanuts

¼ cup (50g) buckwheat

2 tablespoons linseeds (flaxseeds)

20 fresh dates (300g), pitted

2 teaspoons vanilla extract

150g 70% dark chocolate, melted

buckwheat crumb
⅓ cup (70g) buckwheat

2 tablespoons linseeds (flaxseeds)

⅓ cup (15g) puffed amaranth+

2 tablespoons maple syrup

Preheat oven to 180°C (350°F). To make the buckwheat crumb, place the buckwheat, linseeds, amaranth and maple syrup on a baking tray lined with non-stick baking paper and toss to combine. Cook for 10–15 minutes or until golden. Set aside to cool. Break up into crumbs and set aside.

Place the peanut butter, almonds, peanuts, buckwheat, linseeds, dates and vanilla in a food processor and process for 2–3 minutes or until the mixture comes together.

Roll tablespoons of the mixture into balls. Working one at a time, dip a ball into the chocolate and dip half into the buckwheat crumb. Place on a tray lined with non-stick baking paper. Refrigerate for 20 minutes to set. Serve. Makes 28.

+ Amaranth is a gluten-free seed and a good source of protein. Puffed amaranth can be found in health food stores.
There are no comments for this entry yet.