peanut butter choc-coconut
protein bars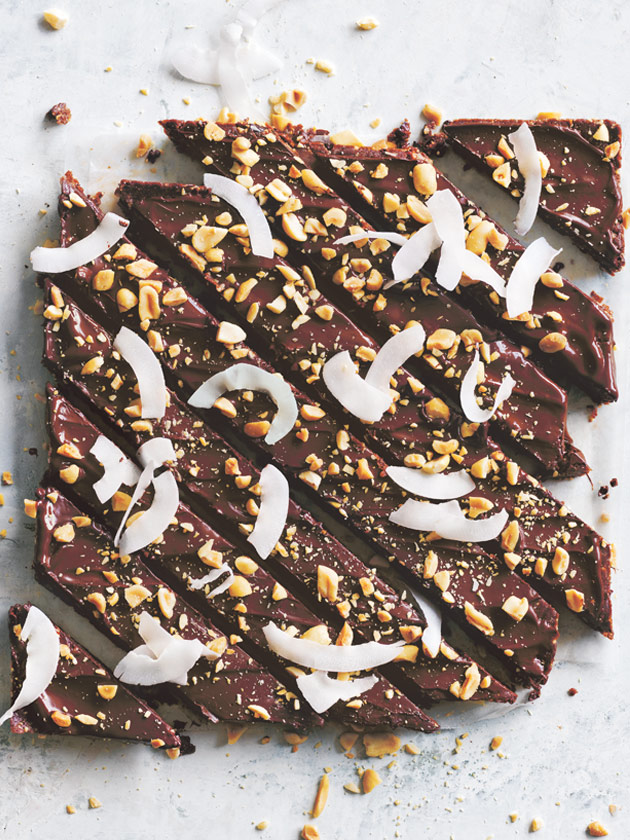 18 fresh dates (360g), pitted

¼ cup (25g) cacao powder

1 cup (140g) unsalted peanuts, plus extra, chopped, to serve

2 tablespoons natural peanut butter

1 cup (50g) flaked coconut, plus extra for sprinkling

1 teaspoon vanilla extract

¼ cup (25g) unflavoured protein powder+

¼ cup (45g) cacao nibs

150g dark chocolate, melted
Line a lightly greased 20cm square tin with non-stick baking paper. Place the dates, cacao powder, peanuts, peanut butter, coconut, vanilla and protein powder in a food processor and process for 2–3 minutes or until the mixture comes together. Add the cacao nibs and pulse to combine.
Press the mixture into the tin and refrigerate for 30 minutes. Pour over the chocolate and sprinkle with the extra coconut and peanut. Refrigerate for 10 minutes or until the chocolate sets. Cut into 16 bars and serve. Makes 16.
+ Look for pea or whey protein powder in health food stores and the health food section of supermarkets.
Tip: You can store these bars in the refrigerator for up to 2 weeks.
There are no comments for this entry yet.