pesto salmon skewers
with green couscous salad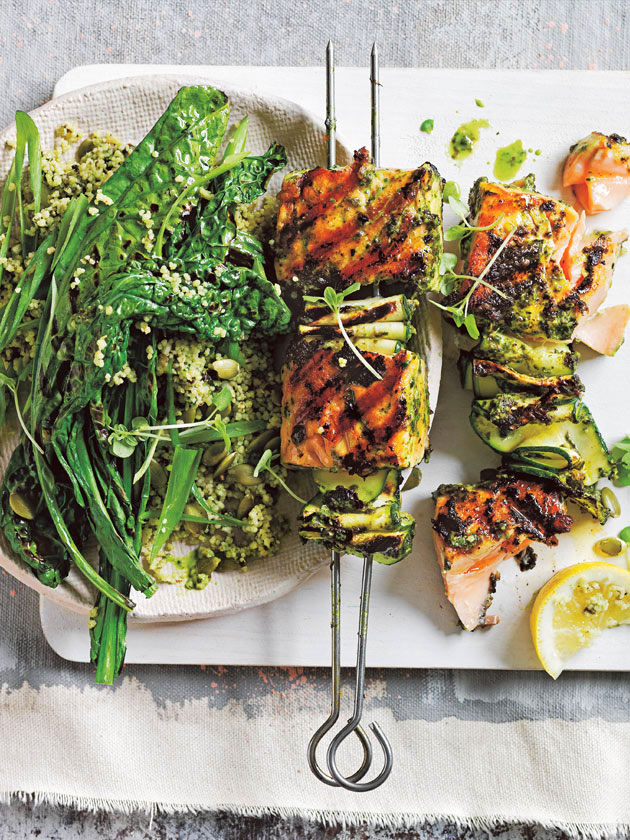 1 cup (200g) whole wheat couscous

1½ cups (375ml) boiling water

150g baby cavolo nero (Tuscan kale)

800g skinless salmon fillets, cut into 5cm cubes

2 zucchini (courgette), thinly sliced

2 green onions (scallions), finely chopped

⅓ cup (65g) pepitas (pumpkin seeds), roughly chopped, plus extra to serve
micro (baby) basil leaves and lemon wedges, to serve

nori pesto
100g baby cavolo nero (Tuscan kale), shredded

3 cloves garlic

2 nori sheets, roughly chopped

⅓ cup (50g) pine nuts, toasted

½ cup (125ml) water

2 tablespoons extra virgin olive oil

2 tablespoons lemon juice

sea salt and cracked black pepper

Place the couscous and boiling water in a heatproof bowl. Cover with plastic wrap and set aside for 10 minutes to allow the water to absorb.

To make the pesto, place the cavolo nero, garlic, nori, pine nuts, water, oil, lemon juice, salt and pepper in a small food processor and process until smooth. Set aside.

Preheat a char-grill pan over high heat. Cook the cavolo nero, in batches, for 1–2 minutes or until charred. Set aside. Thread the salmon onto 8 pairs of metal skewers, alternating with the zucchini. Brush with half the pesto. Cook for 2 minutes each side or until charred and cooked through.
Fluff up the couscous with a fork and add the onion, pepitas and remaining pesto. Toss to combine. Divide the cavolo nero, couscous and skewers between plates and top with the basil, lemon wedges and extra pepitas to serve. Serves 4.
There are no comments for this entry yet.