Prune and dark chocolate brownies
with bitter chocolate ganache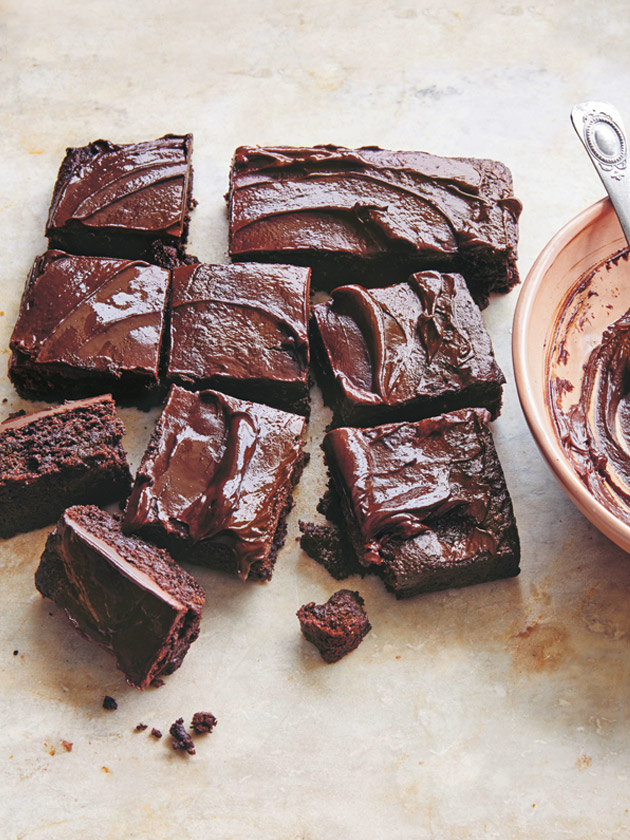 1½ cups (255g) prunes, pitted
50g 70% dark chocolate, melted
¼ cup (60ml) light flavoured extra virgin olive oil
⅓ cup (80ml) maple syrup
1 teaspoon vanilla extract
⅔ cup (80g) almond meal (ground almonds)
¼ cup (25g) Dutch cocoa
½ teaspoon bicarbonate of (baking) soda
2 eggs
bitter chocolate ganache
80g 70% dark chocolate, finely chopped
¼ cup (60ml) coconut milk
Preheat oven to 180°C (350°F). Line a lightly greased 20cm square tin with non-stick baking paper. Place 1 cup (170g) of the prunes in a medium jug and cover with boiling water. Set aside for 10 minutes to soften. Chop the remaining prunes.

Drain the soaked prunes and return to the jug. Add the chocolate, oil, maple syrup and vanilla and, using a hand-held blender, blend until smooth. Place the almond meal, cocoa and bicarbonate of soda in a large bowl and mix to combine. Add the prune mixture, eggs and chopped prune, and mix well to combine. Spoon the mixture into the tin and smooth the top with a palette knife. Cook for 25–30 minutes or until cooked but still slightly fudgy in the centre. Set aside to cool completely in the tin.

To make the bitter chocolate ganache, place the chocolate in a small bowl. Place the coconut milk in a small saucepan over high heat and bring to just below the boil. Pour over the chocolate and stand for 5 minutes. Mix until smooth. Spread the ganache over the brownie and slice into squares to serve. Makes 9.
Kam Ghangass
These were delicious healthy version
Kam Ghangass
I made these today they are not sweet at all but so delicious.I have been making healthy recipes and gluten free so came out nice