quinoa, kale and salmon sushi rolls
with wasabi-tofu mayonnaise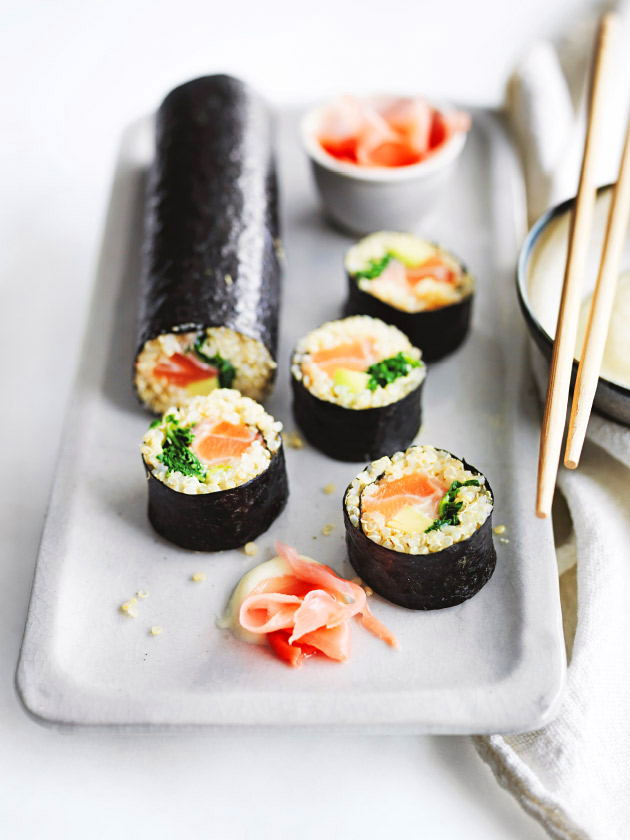 1½ cups (300g) white quinoa

2½ cups (625ml) water

2 tablespoons rice wine vinegar

2 tablespoons mirin (Japanese rice wine)

1 teaspoon sea salt flakes

6 sheets nori (seaweed)

1 cup (40g) trimmed, chopped and blanched kale leaves

300g sashimi-grade skinless salmon fillet, cut into strips

1 avocado, sliced

½ cup (100g) pickled ginger, plus extra, to serve

wasabi-tofu mayonnaise
150g silken tofu

2 tablespoons rice wine vinegar

2 teaspoons wasabi paste

To make the wasabi-tofu mayonnaise, place the tofu, vinegar and wasabi paste in a small food processor and process until smooth. Set aside.

Place the quinoa and water in a saucepan and allow to soak for 15 minutes. Place over high heat and bring to the boil. Reduce the heat to low, cover and cook for 15 minutes or until the quinoa is cooked and the water has been absorbed. Set aside to cool slightly.

Place the vinegar, mirin and salt in a bowl and stir to combine. Sprinkle over the quinoa and mix to combine. Place a sheet of nori on a sushi mat and spread evenly with 2⁄3 cup (135g) of the quinoa, leaving a 3cm border at the top of the sheet. Press down with damp hands and top with one-sixth of the kale, salmon, avocado, ginger and a little of the mayonnaise.

Roll to enclose and slice into rounds. Repeat with the remaining ingredients. Serve with the remaining mayonnaise and pickled ginger. Makes 6 rolls.

There are no comments for this entry yet.