raspberry and oat banana breakfast bars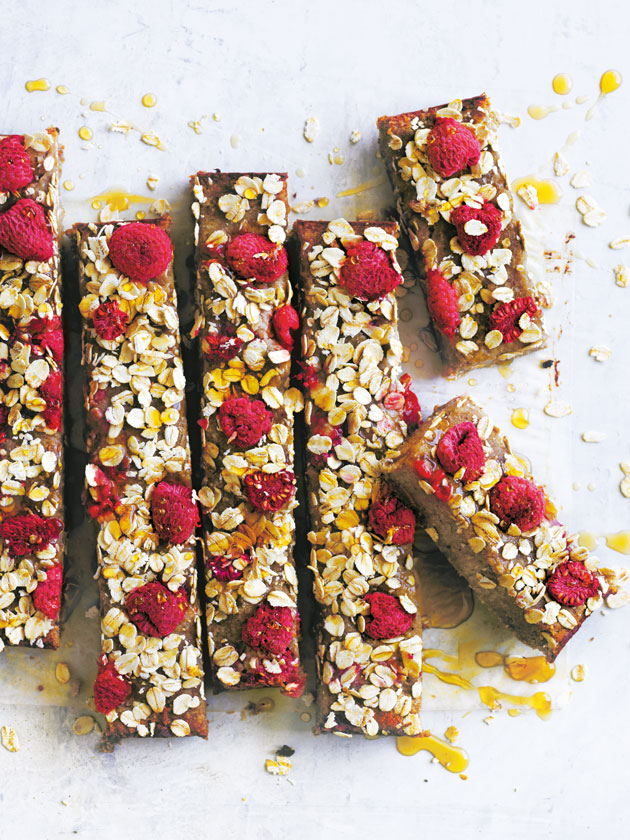 1½ cups (225g) raw cashews
1½ cups (120g) desiccated coconut
3 medium ripe bananas (300g), peeled and chopped

10 fresh dates (200g), pitted
2 teaspoons vanilla extract
½ teaspoon bicarbonate of (baking) soda
125g fresh raspberries
½ cup (45g) rolled oats
maple syrup, for drizzling (optional)

Preheat oven to 180°C (350°F). Line a lightly greased 20cm square tin with non-stick baking paper.

Place the cashews, coconut, banana, dates, vanilla and bicarbonate of soda in a food processor and process, scraping down the sides of the bowl occasionally, for 5 minutes or until smooth. Fold half the raspberries and half the oats into the mixture, spoon into the tin and smooth the top with a palette knife. Gently press the remaining oats and raspberries into the top and cook for 25 minutes or until the top is dry and golden.

Set aside to cool for 10 minutes, then refrigerate until cold. Cut into 10 bars and serve with maple syrup, if using. Makes 10.
Tip: You can store these bars in the refrigerator for up to 1 week.
donna hay team
Hi Trang, The texture is meant to be quite moist after baking and refrigerating them will hold the form of the bars. Enjoy!
Trang Adams
Tastes amazing, however, my mixture is still quite wet after baking. Has solidified a little after refrigerating. Is this expected? What is the texture meant to be like?
donna hay team
Hi Lisa, To make this nut free, you can use sunflower or pepita seeds. Hope this helps. DH Team
Lisa Charles
Hi,
How do i make this nut free?
donna hay team
Hi Kosa, we haven't tested the recipe using other types of nuts, but they should work just as well. A softer nut like a Brasil or almond would be best – The DH Team.
donna hay team
Hi, there Lauren. You can use sunflower or pepita seeds for this one. Cereals will not be stable enough to hold the banana when it bakes. Hope that helps! The DH Team.
Kosa Davenport
My son has an allergy to cashews
He is fine with almonds, peanuts and macadamia
What could be an alternative to cashews? Could any of the nuts above work just as well?
Lauren Poulton
To make it nut-free-school-friendly would rice puffs/cereal be a good substitute for the cashews?