raspberry chia jam slice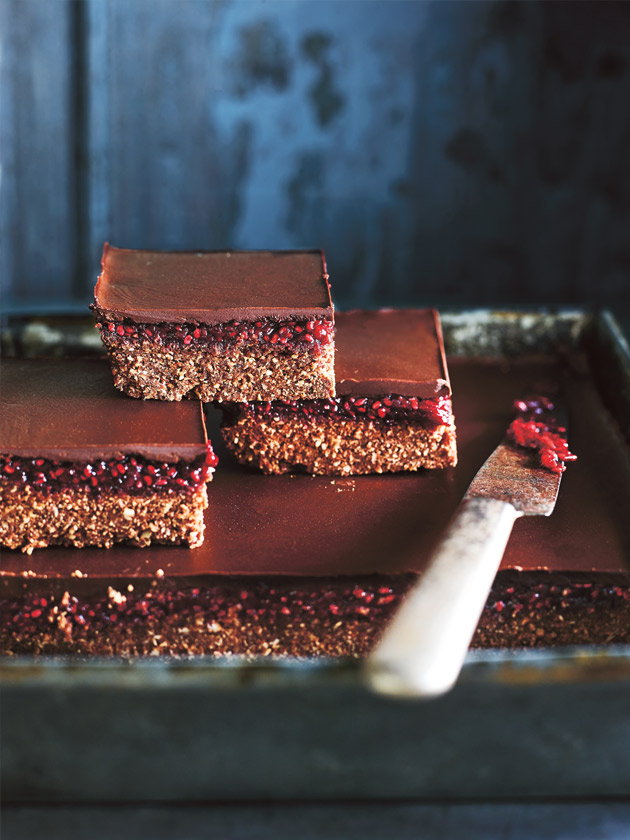 500g frozen raspberries

⅓ cup (80ml) maple syrup

1 teaspoon vanilla extract

2 tablespoons white chia seeds

200g 70% dark chocolate, chopped

2 teaspoons melted coconut oil

cacao base
1 cup (90g) rolled oats

1 cup (80g) desiccated coconut

1 cup (120g) almond meal (ground almonds)

80g unsalted butter, chopped and melted

10 fresh dates (150g), pitted

¼ cup (25g) raw cacao powder

Place the raspberries, maple syrup and vanilla in a medium saucepan over high heat. Cook, stirring occasionally, for 15–18 minutes or until softened and liquid has reduced. Remove from the heat and add the chia seeds. Stir to combine and set aside for 20 minutes to cool.
Preheat oven to 160°C (325°F). To make the cacao base, place the oats, coconut, almond meal, butter, dates and cacao powder in a food processor and process for 2–3 minutes or until the mixture comes together. Press into a lightly greased 20cm x 30cm slice tin lined with non-stick baking paper, smoothing the top with a spoon. Cook for 25 minutes or until firm. Set aside to cool slightly.
Pour the raspberry chia jam over the cacao base, smoothing with a palette knife. Place the chocolate and coconut oil in a heatproof bowl over a small saucepan of boiling water, and cook, stirring, until melted.
Pour over the raspberry jam, spreading with a palette knife. Refrigerate for 2 hours to set. Slice and serve. Makes 20.

Note: You can refrigerate this slice in an airtight container for up to 10 days.
There are no comments for this entry yet.