smoked salmon, avocado and spinach rolls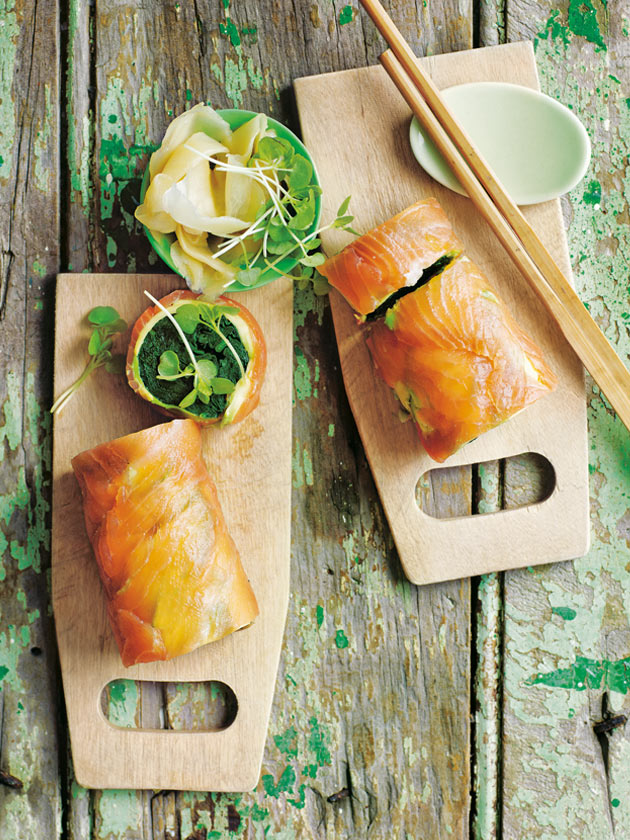 4 bunches (1kg) English spinach

16 slices (500g) smoked salmon

2 avocados, thinly sliced

white pickled ginger and micro (baby) tatsoi leaves+, to serve

Blanch the spinach in a large saucepan of salted boiling water for 30 seconds, then refresh under cold water. Trim the ends, gently squeeze out the excess water and divide into 4 bunches.

Place 1 of the spinach portions along the short edge of a clean tea towel and roll up tightly, squeezing out any excess water. Repeat with the remaining spinach.

Lay 1 large piece of plastic wrap on a flat surface. Top with 4 slices of the smoked salmon, overlapping slightly to create a 20cm square. Top with one-quarter of the sliced avocado and 1 of the spinach rolls.
Using the plastic wrap, roll up to secure (discarding the wrap). Repeat with the remaining ingredients to make 4 rolls. Serve with pickled ginger and tatsoi. Serves 4 as a starter.
+ Tatsoi (Chinese flat cabbage) is a versatile Asian green. You can use mint or coriander, if it is unavailable.
Photography: Chris Court
There are no comments for this entry yet.