smoky lentil and brown rice nachos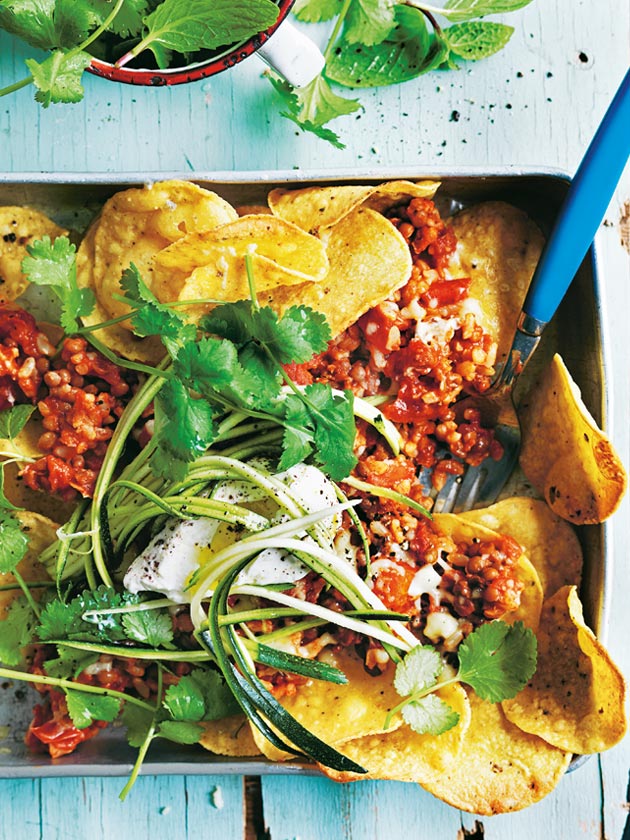 1 teaspoon extra virgin olive oil, plus extra to serve
2 cloves garlic, crushed
1 cup cooked brown rice

+

400g can lentils, drained and rinsed
400g can chopped tomatoes
1 teaspoon hot paprika
1 teaspoon smoked paprika
½ cup (125ml) water
sea salt and cracked black pepper
300g corn chips
2 cups (200g) grated mozzarella
½ cup (140g) labne (yoghurt cheese)
1 zucchini (courgette), shredded
¼ cup coriander (cilantro) leaves
¼ cup mint leaves
Preheat the grill (broiler) to high heat. Heat the oil in a large frying pan over high heat, add the garlic and cook, stirring, for 1 minute. Add the rice and lentils and cook for 2 minutes, stirring occasionally. Add the tomato, hot paprika, smoked paprika, water, salt and pepper. Cook for 4 minutes, stirring occasionally.

Place the corn chips on a large baking tray and top with the

rice mixture and mozzarella. Place under the grill and cook for 2–3 minutes, until the cheese melts. Top with the labne, zucchini, coriander, mint, salt and pepper. Drizzle with extra oil to serve. Serves 4
TIPS + TRICKS
+ To make 1 cup cooked brown rice, place ½ cup (100g) uncooked brown rice and ¾ cup (180ml) water in a medium saucepan over high heat, cover with a tight-fitting lid and reduce heat to low. Cook for 25 minutes or until almost tender. Remove from the heat, and stand, covered, for 10 minutes or until cooked through. Allow to cool slightly before using.
Photography: William Meppem
There are no comments for this entry yet.