tuna and soba noodle wakame salad
with lotus root chips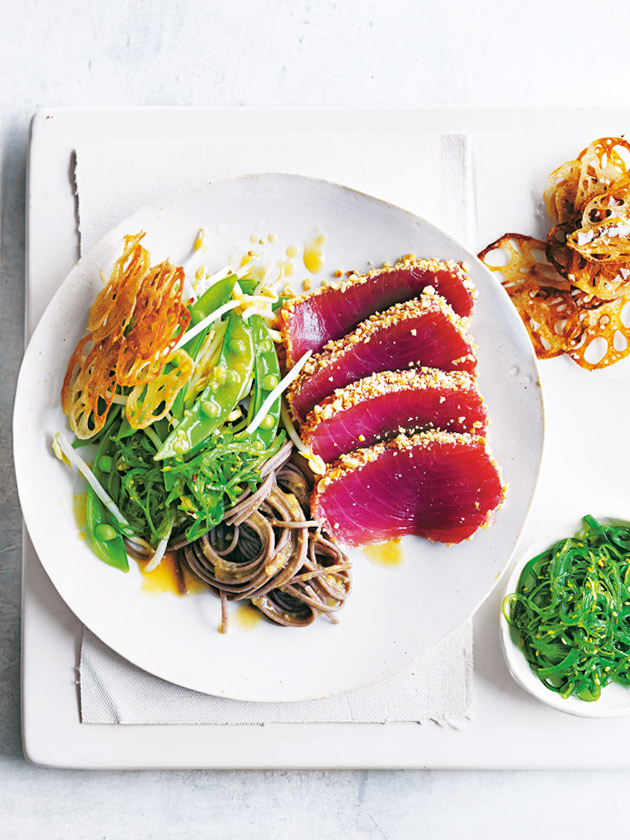 250g soba noodles+

⅔ cup (100g) cashews, toasted and finely chopped

400g sashimi-grade tuna loin, trimmed

300g Japanese seaweed salad (wakame)++

150g sugar snap peas, blanched and halved

2 cups (160g) bean sprouts

ginger miso dressing
1 teaspoon grated ginger

¼ cup (60ml) mirin (Japanese rice wine)

1 tablespoon white miso paste

1 tablespoon sesame oil

1 tablespoon water

½ teaspoon sea salt flakes

lotus root chips
300g lotus root+++, peeled and thinly sliced

1 tablespoon sesame oil

1 teaspoon sea salt flakes

Preheat oven to 180°C (350°F). To make the dressing, place the ginger, mirin, miso, sesame oil, water and salt in a bowl and stir to combine. Set aside.

To make the lotus root chips, place the lotus root, sesame oil and salt in a bowl and toss to combine. Place on 2 lightly greased large oven trays lined with non-stick baking paper and cook for 8–10 minutes or until crisp and golden. Set aside to cool.

Cook the noodles in a large saucepan of salted boiling water for 4–5 minutes or until tender. Drain and refresh under cold water.

Spread the cashew on a plate. Roll the tuna in the cashew to coat all sides and thinly slice.

Place the noodles, seaweed salad, sugar snap peas, bean sprouts and dressing in a bowl and toss to combine. Divide the mixture among 4 plates and serve with the tuna and lotus root chips. Serves 4.

+ Soba are Japanese noodles made from buckwheat and wheat flour. You can find 100 per cent buckwheat flour varieties for a gluten-free option – look for them in Asian supermarkets and grocers.
++ Japanese seaweed salad is a fresh, green pre-packaged salad made from wakame. It can be found in Japanese grocers or sushi shops.
+++ It's best to use fresh lotus root, not frozen, for this recipe. It's available fresh at Asian supermarkets or select grocers.
There are no comments for this entry yet.