zucchini noodles with honey prosciutto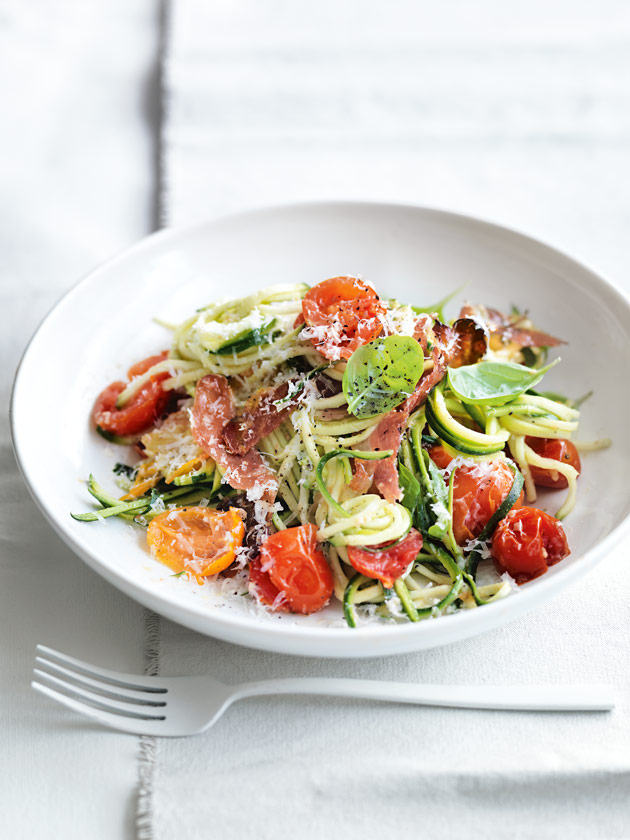 2 tablespoons extra virgin olive oil, plus extra for drizzling

500g cherry tomatoes

2 cloves garlic, crushed

1 tablespoon lemon juice

8 zucchini (courgettes) (1.3kg), thinly sliced lengthways using a julienne peeler
¼ cup (20g) finely grated pecorino, plus extra to serve

sea salt and cracked black pepper

basil leaves, to serve

honey prosciutto
1 teaspoon honey

1 tablespoon red wine vinegar

8 slices prosciutto

Preheat oven to 180°C (350°F). To make the honey prosciutto, place the honey and vinegar in a small bowl and mix to combine. Lay out the prosciutto on a baking tray lined with non-stick baking paper and brush both sides with the honey mixture. Bake for 5–7 minutes or until golden and crisp. Set aside to cool.

Heat the oil in a large frying pan over high heat. Cut a slit into the side of each tomato, squeeze out and discard the seeds. Add the tomato to the pan and cook for 1 minute. Add the garlic and cook, stirring, for 1–2 minutes or until golden. Add the lemon juice, zucchini, pecorino, salt and pepper and toss to coat.
Divide between serving bowls and top with the honey prosciutto, basil and extra pecorino. Drizzle with the extra oil to serve. Serves 4.

There are no comments for this entry yet.