barbecued broccoli salad
with almond salsa verde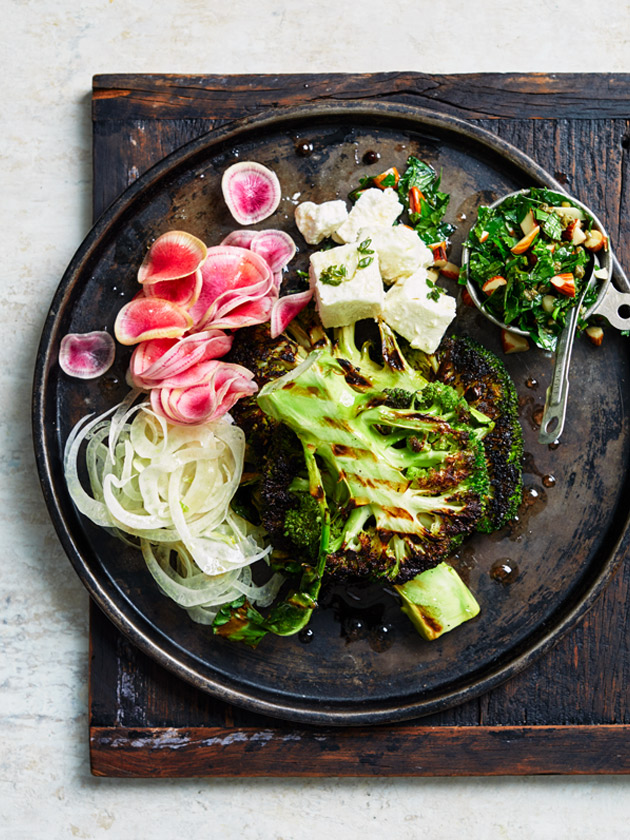 4 heads broccoli, trimmed and thickly sliced+
extra virgin olive oil, for brushing
6 radish, thinly sliced
2 small fennel, trimmed and thinly sliced
200g marinated feta
Almond salsa verde
½ cup (120g) natural almonds, toasted and roughly chopped
2 cups mint, roughly chopped
1 cup flat-leaf parsley, roughly chopped
2 tablespoons baby capers, chopped
½ cup (125ml) extra virgin olive oil
¼ cup (60ml) red wine vinegar
To make the almond salsa verde, place all the ingredients in a small bowl and stir to combine. Set aside.
Heat a barbecue or chargrill pan to medium-high heat.
Brush both sides of the broccoli slices with oil and season with salt and pepper. Cook the broccoli slices on the grill for 3-4 minutes each side or until charred.
To serve, place broccoli onto serving plates with sliced radish and fennel, almond salsa verde and feta. Serves 4
+ With the broccoli stem facing upwards, cut through the stem into 2cm slices.
Cook's tips
+ Grill extra broccoli slices to chop up and toss through pasta for easy leftovers the next day.
+ Swap the broccoli for cauliflower, field mushrooms or zucchini.
Photography: Con Poulos
There are no comments for this entry yet.