chickpea and chorizo pot pies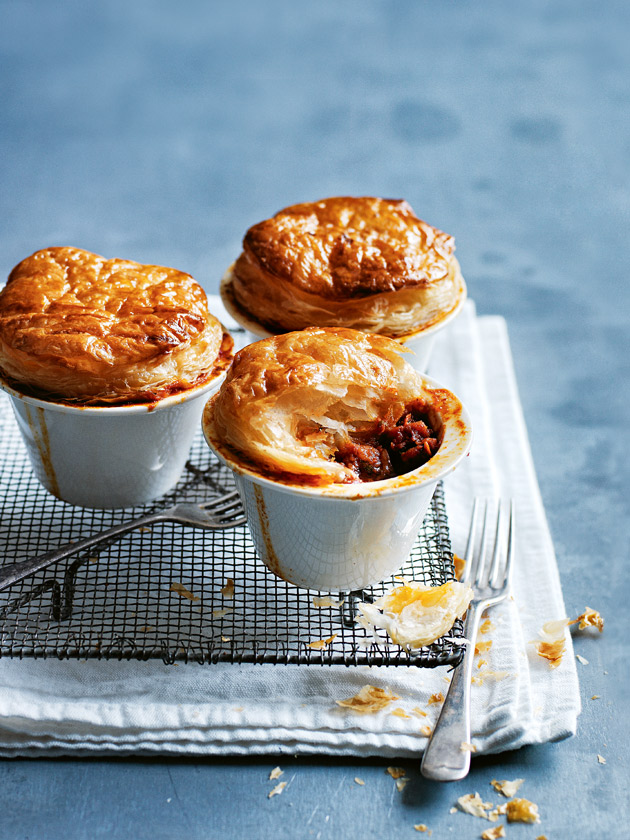 200g dried chorizo, cases removed, chopped
1 x 400g can crushed tomatoes
1 x 400g can chickpeas (garbanzos), rinsed and drained
2 teaspoons smoked paprika
½ teaspoon dried chilli flakes
1 tablespoon brown sugar
2 tablespoons red wine vinegar
1/3 cup oregano leaves, finely chopped
½ cup flat-leaf parsley leaves, finely chopped
sea salt and cracked black pepper
1 egg, lightly beaten
2 sheets store-bought puff pastry, thawed
Preheat oven to 200°C (400°F). Place the chorizo in a small food processor and process until finely chopped.
Transfer to a bowl with the tomato, chickpeas, paprika, chilli, sugar, vinegar, oregano, parsley, salt and pepper and mix to combine.
Divide the mixture between 4 x 1¼-cup-capacity (310ml) ramekins and brush the edges with egg. Cut 4 rounds of pastry using the ramekin as a guide. Top the ramekins with the pastry and press to seal.
Place the ramekins on a baking tray and bake for 15–20 minutes or until the pastry is puffed and golden. Serves 4.
There are no comments for this entry yet.