chorizo bolognese
with buffalo mozzarella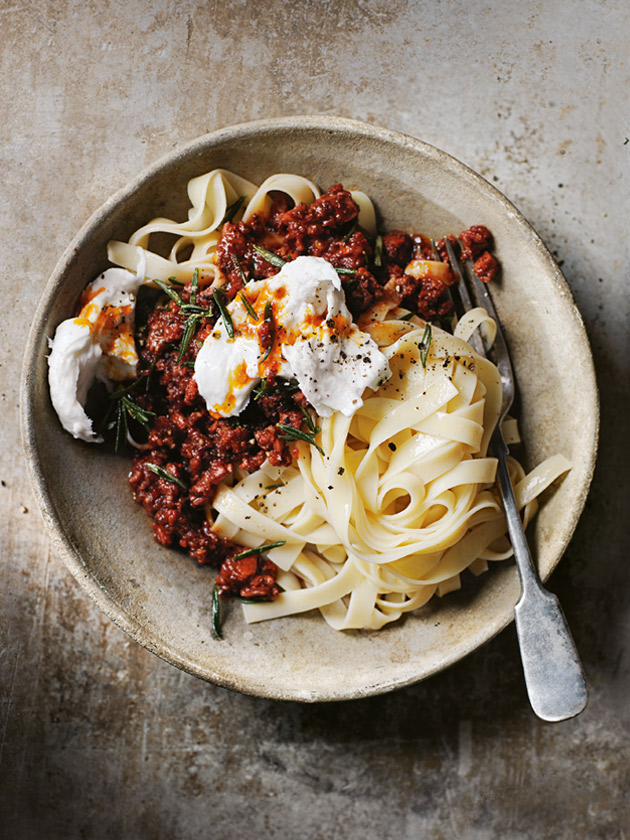 4 dried chorizo (500g), cases removed and chopped

1 tablespoon extra virgin olive oil

2 sprigs rosemary, leaves picked

¼ teaspoon dried chilli flakes

2 cloves garlic, crushed

sea salt and cracked black pepper

½ cup (125ml) red wine

400g can chopped tomatoes

2 tablespoons brown sugar

400g tagliatelle

250g buffalo mozzarella, torn

Place the chorizo in a food processor and process until finely chopped. Set aside.

Heat the oil in a large frying pan over high heat. Add the rosemary and cook for 30 seconds or until crisp. Remove and set aside.

Add the chorizo, chilli, garlic, salt and pepper to the pan and cook, stirring, for 3–4 minutes or until golden and crispy. Add the wine and cook for 30 seconds. Add the tomato and sugar and bring to a simmer. Reduce the heat to medium, cover with a lid and cook for 5–6 minutes or until the liquid has slightly reduced.
While the chorizo mixture is cooking, cook the pasta in a large saucepan of salted boiling water for 6–8 minutes or until al dente. Drain, reserving ½ cup (125ml) of the cooking liquid. Add the reserved cooking liquid to the chorizo mixture and stir to combine.

Top the pasta with the chorizo mixture, mozzarella, crispy rosemary and pepper to serve. Serves 4.

Stephen Dunn
This is no 4 star recipe. It deserves all five, or more as the case may be. The hardest part was removing the chorizo casings. It was an incredibly easy meal, and for something that tasted this good, it's hard to believe this could be rustled up in under 20 minutes. Buy good quality pasta, but why are you still reading when you should be cooking this?!
Simon Pope
WOW!!!! Easy and absolutely yummy.
I love Italian food and Chorizo…this is THE perfect combination.
Go on try it!!!!!!