paper bag spaghetti with clams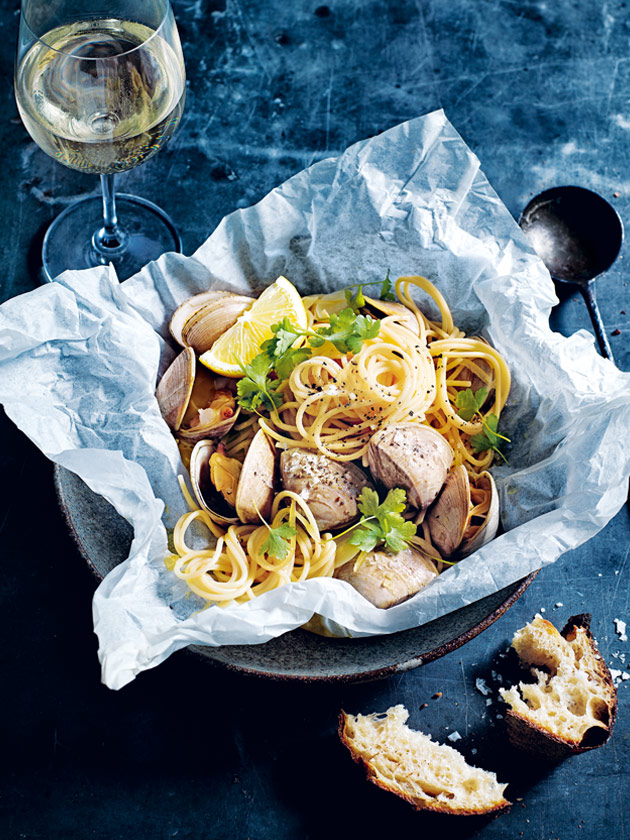 400g dried spaghetti

1kg clams (vongole), cleaned+

⅔ cup (160ml) Cloudy Bay Chardonnay

⅔ cup (160ml) fish stock

160g unsalted butter, chopped

4 cloves garlic, thinly sliced

1 tablespoon finely shredded preserved lemon rind

sea salt and cracked black pepper

micro (baby) flat-leaf parsley leaves, to serve

lemon wedges, to serve

sourdough bread, to serve

Preheat oven to 180°C (350°F). Place the pasta in a large saucepan of salted boiling water and cook for 5 minutes or until just softened. Drain and set aside.

Cut 4 x 40cm squares of good-quality (thick) non-stick baking paper. Use the paper to line 4 shallow ovenproof serving bowls. Divide the pasta between the bowls and top with the clams. Divide the wine, stock, butter, garlic and lemon rind evenly between the bowls and sprinkle with salt and pepper. Gather the edges of the paper together and secure each bag with kitchen string, ensuring no steam can escape. Bake for 18–20 minutes or until the clams are open and the pasta is al dente. Sprinkle with parsley, salt and pepper and serve with lemon wedges and bread. Serves 4
+ We used Cloudy Bay clams for this recipe – they're available at fish markets and select fish shops.
Wine note: undertones of preserved lemon and a powerful palate make Cloudy Bay Chardonnay the secret ingredient in this rustic pasta. With that in mind (and since you've opened the bottle!) it's the ultimate accompaniment.
There are no comments for this entry yet.