roasted green chicken curry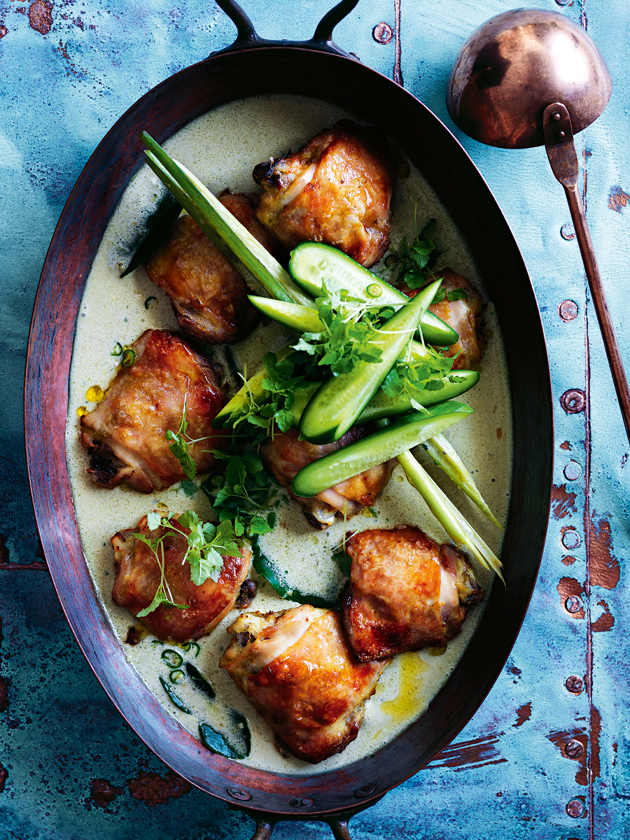 1 x 400ml can coconut milk

2 tablespoons fish sauce

1 tablespoon finely chopped palm sugar
4 thai lime leaves

1 stalk lemongrass, bruised

8 x 220g bone-in chicken thighs, skin on and trimmed
sea salt flakes
2 tablespoons lime juice

sliced baby cucumbers and baby (micro) herbs, to serve

green curry paste
2 tablespoons coriander (cilantro) seeds

1 teaspoon cumin seeds

¼ teaspoon white peppercorns

3 long green chillies, roughly chopped

2 eschalots (French shallots), roughly chopped

4 cloves garlic, roughly chopped

2cm piece (10g) fresh turmeric, peeled and roughly chopped

2 tablespoons coriander (cilantro) root, chopped

6cm piece (30g) fresh galangal, peeled and roughly chopped

4 thai lime leaves, shredded

1 stalk lemongrass, white part only, sliced

½ teaspoon shrimp paste

2 tablespoons peanut oil

To make the green curry paste, heat a small frying pan over medium heat. Add the coriander seeds, cumin seeds and peppercorns and toast, shaking the pan frequently, for 2–3 minutes or until fragrant and light golden. Place in a small food processor and process until ground. Add the chilli, eschalot, garlic, turmeric, coriander root, galangal, lime leaves, lemongrass, shrimp paste and oil and process, scraping down the sides of the bowl, until smooth. Makes 1 cup (250ml).

Preheat oven to 180°C (350°F). Place the curry paste, coconut milk, fish sauce, sugar, lime leaves and lemongrass in a deep-sided medium baking tray and mix to combine. Rub the chicken with salt and place, skin-side up, in the baking tray. Cover with aluminium foil and roast for 1 hour. Increase the temperature to 200°C (400°), remove the foil and roast for a further 35–40 minutes or until the chicken is cooked through and the skin is crispy. Use a metal spoon to skim any fat from the surface of the sauce and stir through the lime juice. Top with the cucumber and baby herbs to serve. Serves 4.

Virginia Leonard
Delicious recipe. We added baby carrots, baby corn and potatoes to the chicken. And served with sugar snap peas as well as the cucumbers.
Ann-Marie Hooper
Seriously love this recipe! I've used store bought green curry paste to make it easier/cheaper. I've also added vegies like potatoes and carrots in with the chicken and added beans towards the end of the cooking process. So good!
jennifer emmett
I left the last comment 10 out of 10 !! Forgot to say I use the store bought Green Curry Paste for an easy meal ! YUM
jennifer emmett
One of the best, easiest meals to set and forget !! Just delicious !! Surprise Surprise its a winner every time I serve this to guests ... Easy to put in the oven after work . ! 10 to of 10